Get ready to add a touch of holiday magic to your home with this DIY cone Christmas tree that lights up!
In this blog post, I'll show you how to create a dazzling centerpiece using budget-friendly Dollar Store items. This project is perfect for everyone, as it's incredibly easy and requires minimal crafting skills. With just a few simple materials and a dash of creativity, you'll be able to craft a stunning Christmas tree that will capture the hearts of your family and guests. Whether you're a seasoned DIY enthusiast or a beginner looking for a fun project, this cone Christmas tree is sure to delight.
So, gather your supplies and get ready to illuminate your holiday season with this effortless and affordable craft!
The first thing you'll want to do is grab a poster board from the dollar store
Then, you'll want to roll it into the shape of a cone
Secure with tape
Then, you'll want to cut off the excess poster board from the bottom with scissors. Ensure that you are cutting straight so it's nice and even
Now, you'll want to grab one of these white towels from the Dollar Tree. You can find them in the automotive aisle
Now roll the towel around the cone, covering its entire surface. You can hot glue as needed
Cut off most of the excess towel from the bottom and then tuck in the remainder inside of the cone, hot gluing as needed
Now, you'll want to grab some LED lights from the dollar store. The ones I got had a vine look to them that had greenery as well as red frosted berries.
Wrap the lights around the cone, starting at the top and ending at the bottom, the battery pack can just be tucked inside the cone, make sure that you have batteries in it, and Light It Up!
That's it! What do you think?!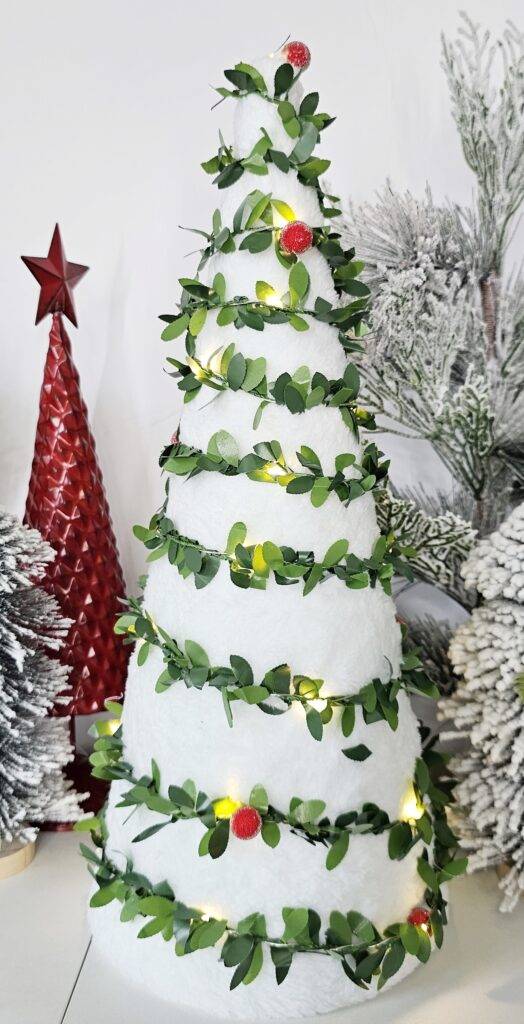 Will you give it a try this Christmas season!?
You can watch the full step-by-step video tutorial here below, plus three additional Christmas DIY crafts that light up!
Have fun creating and Merry Christmas!
Lianep