The day I discovered "Farmhouse" style décor was the day my life was complete……well, that's a bit exaggerated, but, it was truly a match made in heaven. I love the natural textures and the imperfect perfection it has. After months of DIYing my own farmhouse style décor, I have compiled a list of my top 10 supplies needed to create this style, or at lease my version of it" 🙂 Please know that I am not suggesting you go out and buy all this items. This is just a list of supplies that I've used over and over again in my home and on my tutorials on my YouTube channel.
Here's the list……
White paint – Preferably Chalk paint, because, in my opinion, it distresses better. Farmhouse style decorations tend to be on the lighter side; whites, beiges, soft greens, etc. But, I think that white is by far the most used color when painting and decorating in a Farmhouse style. Plus, it's also my absolute favorite color for furniture and home décor. If you follow me on my YouTube channel, you probably know this to be true, and that is why it's number one on this list.
 Supplies to help you achieve a distressed look on furniture and home décor – When I say distressed look, I mean a worn-out, antique look. This can be achieved using several supplies. My favorites are sand paper and paint. I am a fan of the distressed look, and use it all the time when painting furniture and creating home décor. I have many examples of how to distress furniture and home décor on my YouTube channel.
 Jute twine and/or jute rope – I love using jute for my decorations. I think it adds natural texture to home décor. And it's also very inexpensive. I have several on my affiliate Amazon Store.
Greenery – You can use real greenery or faux greenery, but having some sort of greenery in your Farmhouse décor will add a fresh, natural finish to your décor. I personally love boxwood and grassy ones. I have some of my favorites in my affiliate Amazon Store.
Wooden signs – In my opinion, wooden signs are just a staple in any Farmhouse décor. They are practically used in any room and can be in any size too. I love making wood signs and using them in my home decore. Click here to watch a video on how you can make several styles of wooden Farmhouse signs, very inexpensively.
Galvanized buckets or containers – Galvanized buckets are another way to add texture to your farmhouse décor. The older the better, in my opinion. They can be used for florals, as planters, for storing blankets, etc.
 Your favorite wood stain – Having a "go-to" wood stain is so important when trying to create a cohesive farmhouse style décor. My taste in tones have changed through the years, but have always had some on-hand when creating home décor. Wood can be some-what inexpensive to buy and can be used in multiple ways to create home décor with a farmhouse look. Having your favorite stain will allow you to have coordinating pieces in your home.
Cotton stems – in addition to having greenery, I think that having cotton stems in your home décor will add to it's farmhouse charm.
Mason jars – I mean, really? Do I really need to explain this one? LOL – Mason jars are the most versatile décor you could probably have in your home. They can be used in every room and for multiple uses.
 Soft pastel color florals – In addition to greenery and cotton stems, having some florals in your home will be the icing on the cake. It's such a beautiful way to add freshness to your home. I'd say stay with light, pastel colors, but that's just my opinion.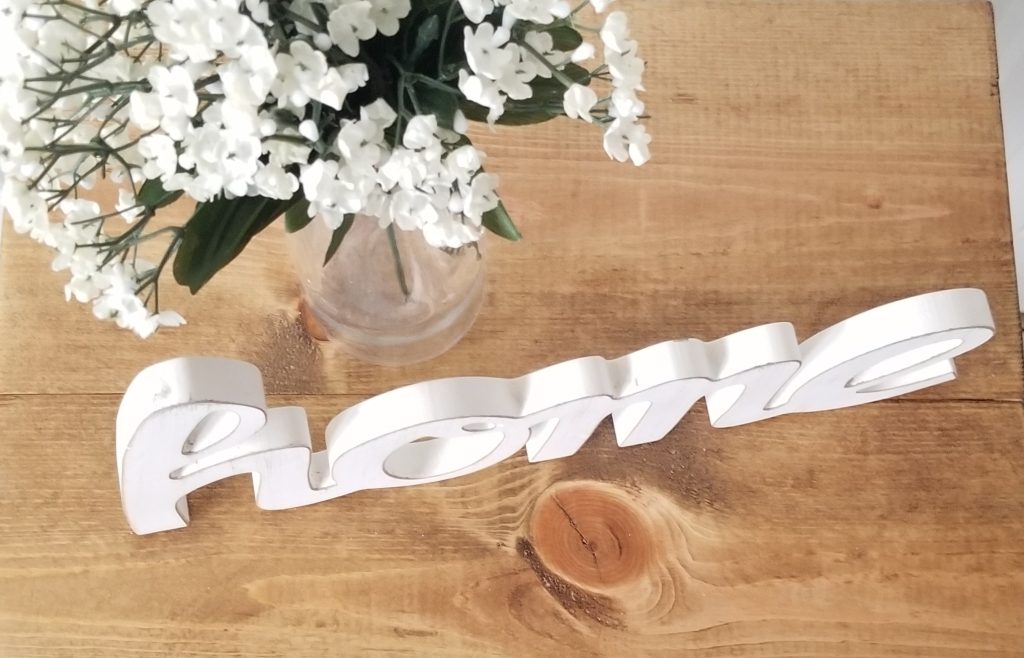 Ok, so that's it! Again, these are just some of the things I recommend having for a farmhouse style décor. Things that I have used over and over again in my home. If you can't have them all at once, take your time, thrift when possible and shop at dollar stores as well! For some tips on saving money while home decorating, read my last post on 10 Ways to save money while crafting.
"As an Amazon Associate I earn from qualifying purchases"