Today, we will shed LIGHT on creative DIY crafts for home decor using Dollar Tree garden solar lights. Get ready to ILLUMINATE your living spaces with our budget-friendly IDEAS. With a little creativity, these affordable solar lights can be used in ways you never thought possible. I'll guide you step by step to brighten up your living spaces. Join me as we explore the world of DIY crafts, where Dollar Tree garden solar lights take center stage. Let's light up your imagination today!
DIY Light House Decor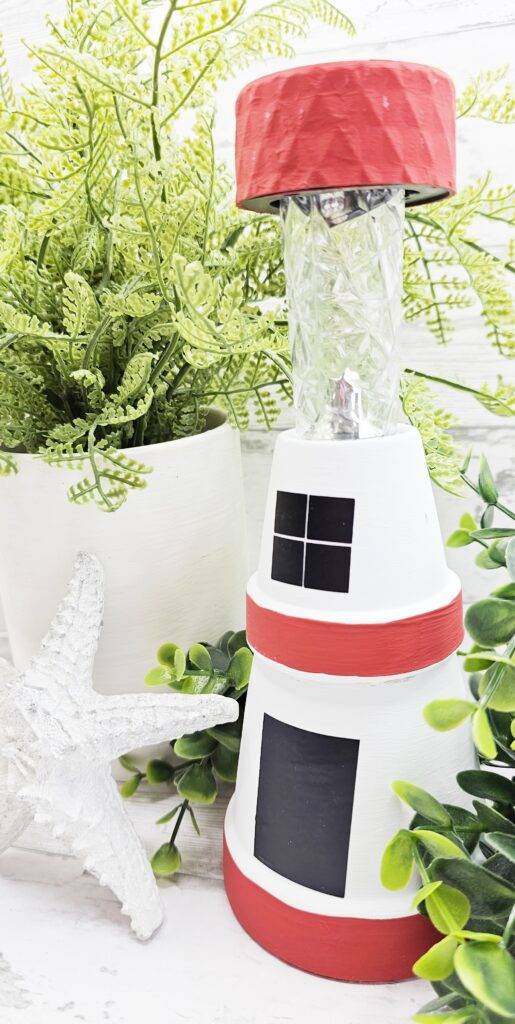 This cutie was so easy to make!
I took two small terracotta pots from Dollar Tree, one smaller than the other.
I widened the bottom opening of the smaller one using a screw driver and a hammer. I slowly and very carefuly chopped away at the opening, widening it enough to fit the solar light from Dollar Tree.
I then painted them white and the rims red.
I cut two pieces of vinyl using my Cricut Joy cutting machine and added the door-shaped rectangle to the larger pot and a window-like decal to the smaller one.
I placed the smaller pot on top of the bigger one, hot gluing them together.
I placed the solar light inside the opening at the top and hot glued as needed.
That's it! So fun and so easy! What do you think?
Lighted Garden Butterfly Mason Jar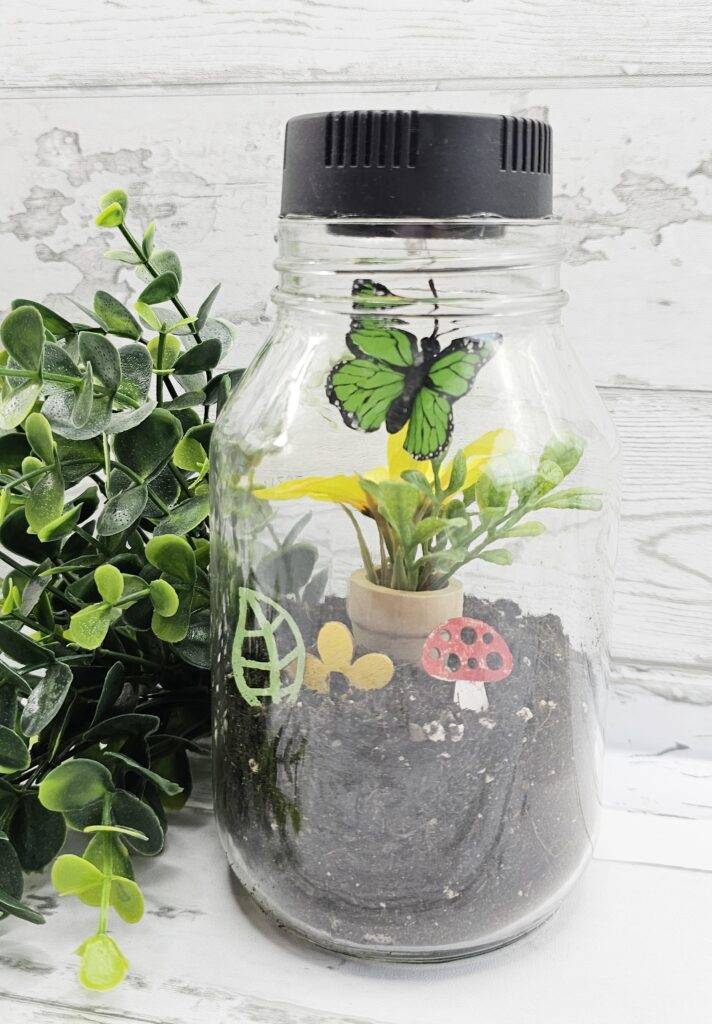 This mason jar DIY crat is perfect for beginners and seasoned crafters!
I took a pasta sauce jar, but you can also use a mason jar and filled it with potting soil just under the halfway point.
I took small wood cut-outs from Dollar Tree and painted them as saw fit. I also took a small wood pot and hot glued a flower and greenery to it.
I placed them inside the jar, positioning them in a visible way.
I removed the stake portion of a solar light from Dollar Tree and placed it inside the jar, securing it in place with hot glue on the rim. This particular solar light had a butterfly on it, which was perfect for the style and theme.
How stinkin' cute is this!? Love the way this one looks at night!
What do you think?
DIY Lighted Flower Box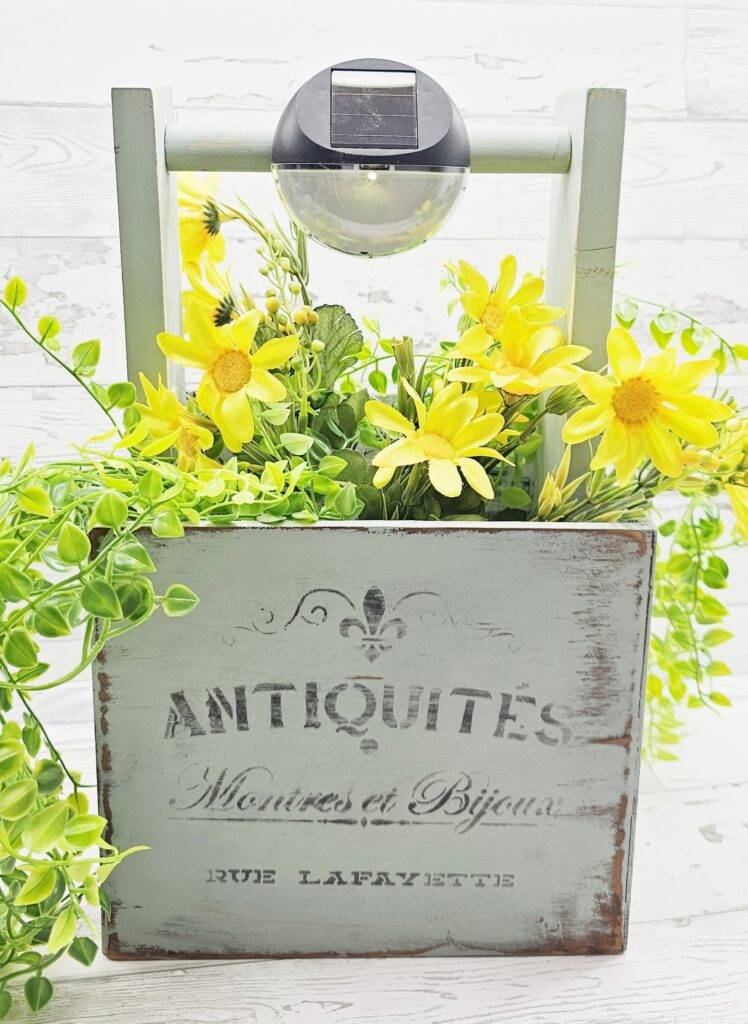 This beautiful box required a few power tools, and it was so worth it!
I found the actual box at the thrift store a few months back. I cut two piecces of 1x3x10 and added them to each side of the inside of the box using wood glue and brad nails.
I also cut a 1/2″ dowel to fit in between each 1×3. I pre-drilled holes on each end of the dowel and the top of each 1×3.
I secured the dowel at the top, in between each 1×3 with wood glue and screws.
I then painted the entire box with a beautiful teal color and added a stencil to the front of the box.
I lined the inside with a nautical themed fabric from Walmart by hot-gluing it in place.
I screwed in a solar light from Dollar Tree to the dowel handle and added faux florals inside the box.
What do you think?
DIY Lighted Farmhouse Sign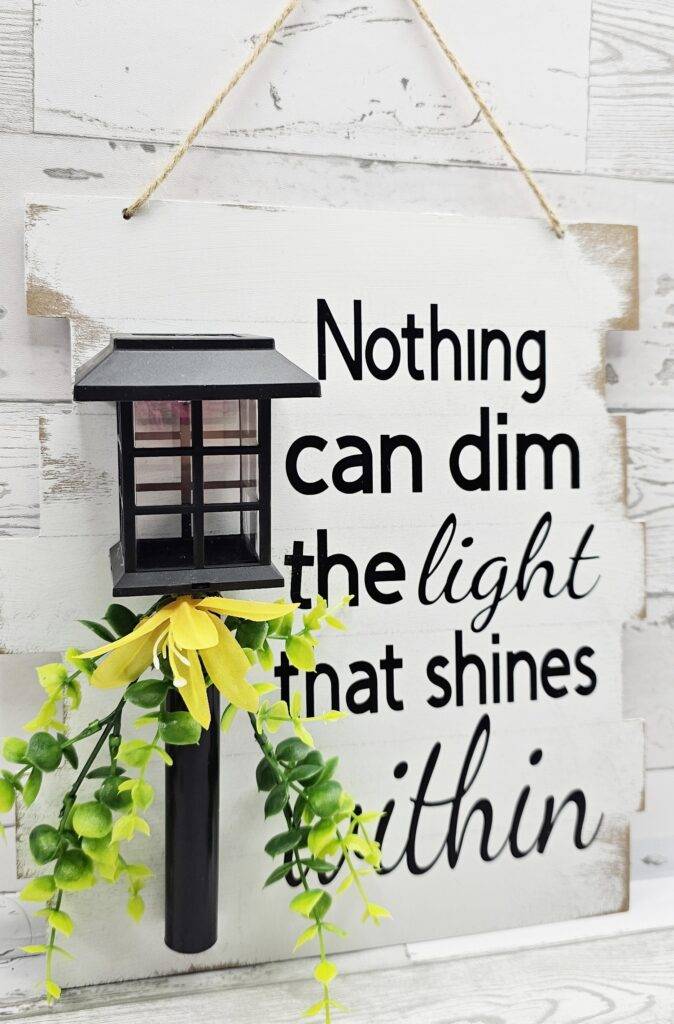 This sign was so easy to make!
I took a leftover Christmas sign from Dollar Tree, removed everything from it, and sanded it down a bit.
I paitned it white and sanded the edges for a farmhouse look.
I added a decal I cut using my Cricut Maker machine and placed it on the right side of the sign.
I drilled a couple of holes on the sign, exactly where I would be able to tie the solar light to.
I penciled in horizontal lines to give it a plank look.
I threaded jute string through the holes and placed the solar light in the jute string loop. I tightened it on the back and added greenery and a yellow flower underneath the light for an added touch of color and texture.
I place jute string on top to be able to hang it.
And that's it! WOW! These DIY crafts are so easy and so fun!
Which one was your favorite?!
Don't forget that you can watch the step-by-step video tutorial of these crafts on this video below!
Have fun creating!
Lianep