Fall is the perfect time to cozy up your home with warm hues, rustic elements, and charming decor. But why spend a fortune on store-bought pieces when you can effortlessly create your own DIY fall decor? Not only does it unleash your creativity, but it also helps you save a significant amount of money.
Embracing the do-it-yourself approach allows you to personalize your space with unique and meaningful touches. From crafting wreaths adorned with vibrant autumn leaves to painting stacked pumpkins and adding florals, the possibilities are endless.
Join me as we dive into the world of DIY fall decor, where creativity meets affordability and transforms your home into a cozy autumn haven.
For this DIY project, I started with a 24″ stackable pumpkins you can find at Dollaar Tree Plus.
They come nestled inside each other, simply remove the plastic and remove each pumpkin from inside of each other. Then, you'll want to snap them together, from largest at the bottom to the smallest at the top.
You will want to add hot glue in between each pumpkin so that they are secure and don't swivel on you.
You can leave the pumpkins in the original orange tone, or you can paint in the color you want. I chose to paint it in a neutral Sandstone color by Waverly.
Once dry, take it outside and seal everything with a clear top coat. I used Rustuleum Clear coat in the semi-gloss.
Once dry, I brought it back inside and drilled several holes on the top of the front bottom pumpkin. This is so we can add florals to it.
I added a dab of hot glue on each hole and added greenery picks to give me a base. Once I had the greenery in place, I drilled more holes as needed to add colorful florals.
You can add as many or as little as you want. I wanted mine to have tons of color and texture, so I added quite a bit!
I decided to add one more hole on the top, right side of the middle pumpkin.
Added hot glue and a beautiful, large sunflower.
And that's it! What do you think?! The possibilities are endless with this project! And you're saving so much money by making it yourself!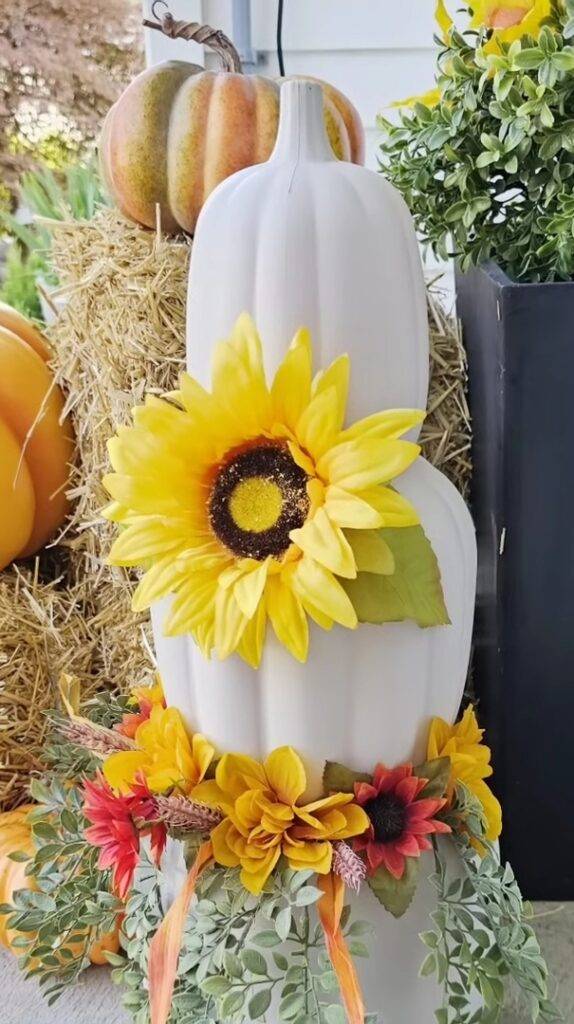 Will you give it a try?
Don't forget you can watch the full step-by-step video tutorial here below. Plus, three more fall DIY crafts!
Have fun creating!
Lianep