Fall is the perfect time to unleash your crafty side and add a touch of warmth and elegance to your home. And what better way to do that than by using Dollar Tree's faux leather? In this post, I'll show you how to use this budget-friendly material to create stunning DIY crafts that exude a high-end aesthetic.
Whether you're a seasoned crafter or just starting out, these simple yet stylish projects will have you amazed at what you can achieve without breaking the bank. So let's dive in and discover the endless possibilities of Dollar Tree faux leather this fall!
The first thing you'll need, of course, is faux leather from Dollar Tree, in the color of your choice. You can find these in the crafting isle along with the vinyl. I chose the blue tone.
Then, grab a wooden mason jar decor from Dollar Tree.
Remove everything from it, including the metal leaf. But keep the leaf near you, as we will use it shortly.
Lightly sand off the surface with an electric sander or sanding block to remove all glitter.
After the surface is sanded and dusted off very well, tape off the top metal portion with masking tape or painter's tape.
Use an adhesive spray of your choice and spray the top surface of the wooden mason jar. You can find this Gorrilla Adhesive Spray HERE.
Cut off a piece of faux leather from Dollar Tree that will fit the mason jar.
And then place it on top of the sprayed area. Make sure to rub and press down until it's fully adhered.
Using a very sharp exacto knife and very carefully, cut off the excess faux leather as close to the edge as possible.
Now you can spray adhesive the metal leaf we removed earlier.
You can now use gold flakes to cover it up. You can find these gold flakes HERE.
Cover the entire leaf surface with the gold flakes and press down on them until they are completely adhered to the surface.
Use a dry, lean brush to dry brush off the excess flakes.
Now we can put everything together. Hot glue the metal leaf to the upper, right corner, at an angle.
Cutt of a couple of these yellow picks from Dollar Tree.
Hot glue, one to the right side of the metal leaf and another one to the left side.
And to finish it off, you can add a small sunflower to the top corner. This will bring everything together!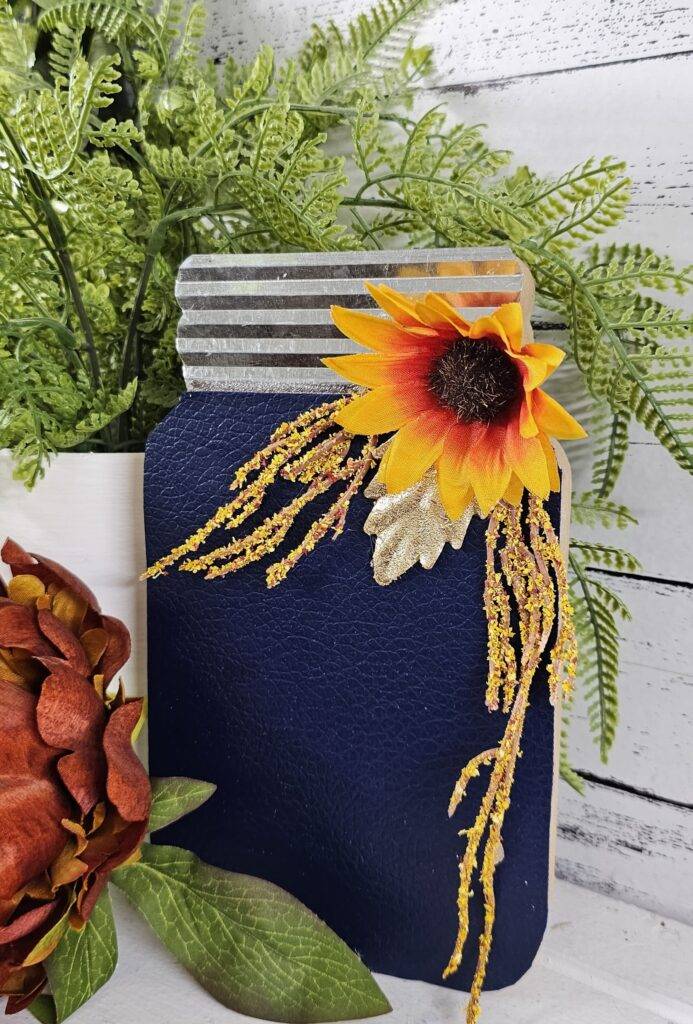 What do you think?!
This wooden mason jar went from cute to wow!
Don't forget that you can watch the full step-by-step video tutorial here in this video below. PLUS! Three additional DIY crafts!
Have fun creating!
Lianep
**Some links are affiliate links, which I earn a small commission from every sale at no extra cost to you.