As the holiday season approaches, it's time to get crafty and infuse your home with the spirit of Christmas. And what better way to do that than by using an unexpected item?
Get ready to rummage through your drawers and find those cozy winter socks that have lost their mates. Yes, you heard it right! These fuzzy wonders can be transformed into unique and charming Christmas decorations that will add a touch of warmth and whimsy to your festive ambiance.
Now, dont worry if you dont have old, fuzzy socks, you can also buy inexpensive ones at Dollar Tree!
Join us as we explore the magical world of DIY Christmas crafting using cozy winter socks and discover how these ordinary items can become extraordinary pieces of holiday decor.
If you are not able to find old, fuzzy socks in your drawer, these are the perfect ones to use. They come in a variety of colors and are $1.25 a pair!
While at Dollar Tree, grab a foam board and free-hand a "boot" style design on it.
Then, cut it out using a blade knife or an exacto knife. I use this Blade Knife from Amazon, and it is amazing!
Take one of the socks and place it over the foam boot.
Cut off any excess from the top
And hot glue the edges to seal it.
I wanted to add a white fuzzy edge on the top, so I added hot glue
And added a piece of a dusting mop from Dollar Tree to it.
I, then, floded it to the backside and hot glued it as well. Trim anad cut off any excess fuzzies.
You can leave as is, or you can add a bit of embelishments. I added some greenery to the top, right corner byt hot gluing it.
I also added a few extra embelishments to add color and texture.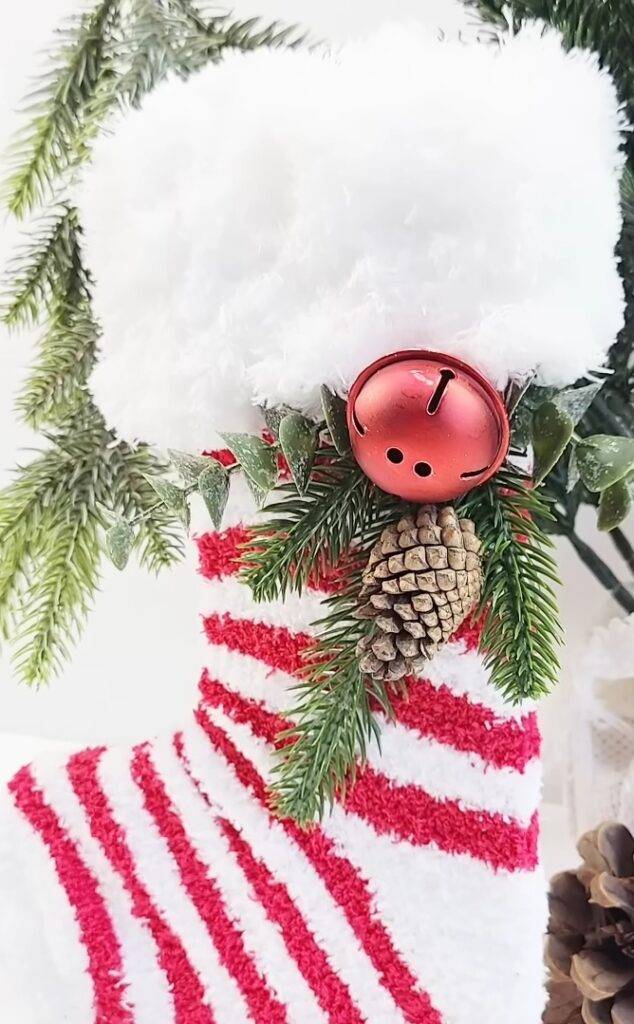 And that's it! How easy and fun was that!?
It's a great Christmas craft you can make this year!
You can watch the full setp-by-step video tutorial here below, plus three additional DIY Christmas crafts!
Have fun Creating and Merry christmas!
Lianep
* Some links are affiliate links, which I earn a small commission on at no extra cost to you.