As the sun shines brighter and warmer days beckon, it's time to embrace the essence of summer with a touch of creativity. And what better way to do so than through do-it-yourself crafts that bring a burst of color and charm to your surroundings? In this blog post, we invite you to explore the boundless possibilities of Dollar Tree burlap canvases—a versatile and affordable material that serves as the perfect canvas for your artistic endeavors. From beach-inspired wall decor to clever jewelry holder, we'll dive into a world of summer-themed crafts that will enliven your space and ignite your imagination.
Decorative Door with Wreath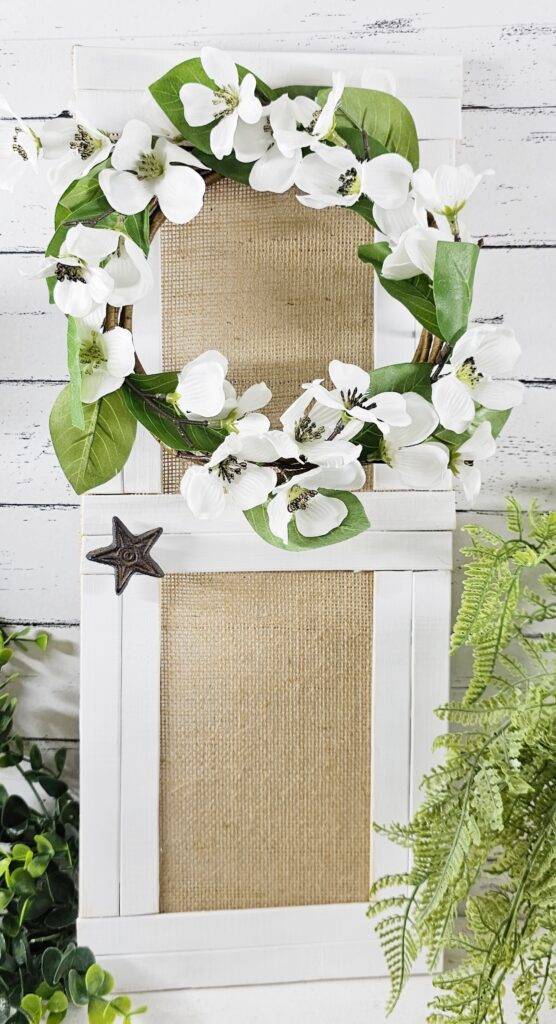 This stunning decorative door is one that can be used year round, and I love it!
I took two burlap canvases and removed the excess burlap fabric from one of the short edges. This allowed them to connect nicely together with hot glue.
I then took several paint sticks and painted them white, cut them to size, and framed the door on all edges as well as the center. I also doubled them up to give the frame a thicker look.
I drilled a hole in the middle, left side, and threaded an old drawer knob I had on hand.
I zip-tied a white flower wreath, approrpiately sized, to the top of the door.
And that's it! What a beautiful DIY craft that's easy and so versatile!
Beach Themed Wall Decor
This beached themed decor was so much fun to make!!!
I took a burlap canvas from Dollar Tree and hand-painted a "shore-like" design on it. I used three different tones of blues as well as white paint. I made sure to give it a "wavy" style for a more life-like look.
I then hot glued a decorative star fish to the "sandy" area and added nautical rope from Dollar Tree in a wave-like design.
How fun is this one!? What do you think?
Neutral Decorative Tray
This tray is beautiful and so easy to make!
I took three thin, horizontal wood signs from Dollar Tree and cut them to fit as a trim to one of their burlap canvas.
Once I had them cut to size, I painted them white with chalk paint. I then attached them all around the edges, giving it a tray look. I used hot glue and brad nails to attach them.
I then wrapped nautical rope from Dollar Tree all around the outside perimeter for added texture and design. I used hot glue to attach it.
That's it! How easy was that!? What do you think?
Chick Earing Holder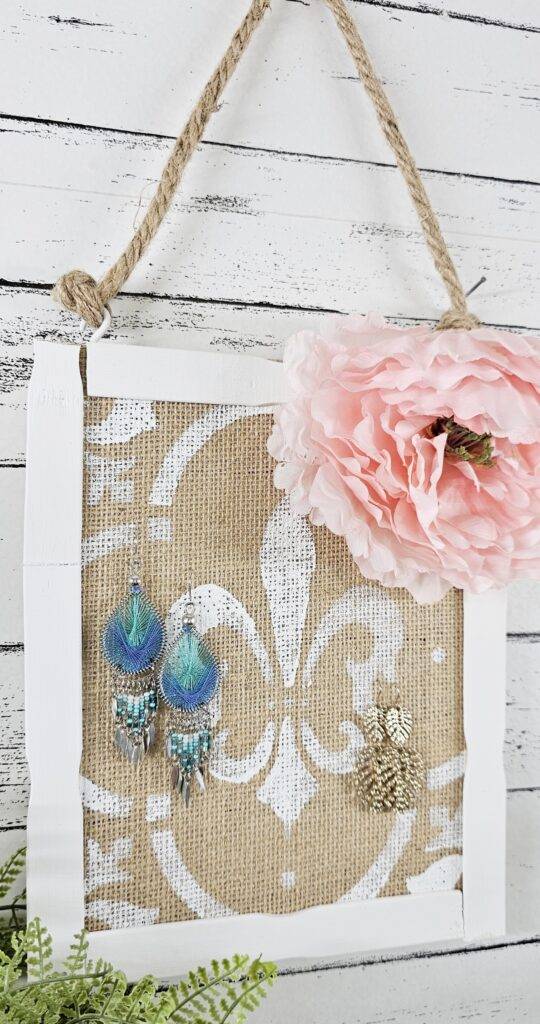 This DIY craft is beautiful and functional!
I took a Dollar Tree burlap canvas and stenciled a beautiful design on it using white chalk paint.
I then framed it with painted paint sticks left over from the first project. I hot glued them in place, cutting as needed to fit the canvas.
I then added two open eye hooks to the top and tied rope from Dollar Tree to be able to hang it!
Easy, quick, and so beautiful!
What do you think? Which one's your favorite?
Also, don't forget you can watch the step-by-step video tutorial in this video below!
Have fun creating and talk soon!
Lianep