Have you started thinking about how you will decorate your home this Spring? I know, I know, it's still January! But, why not?! I love Spring and everything that it means; new beginnings, fresh start, birds chirping, flowers blooming…..ahhhhh I can just feel it! And I love when I can switch my home's decor from Winter to Spring; it feels amazing.
I've already started planning, crafting and creating spring decor, and I'm enjoying every minute of it. I recently created several spring crafts that are absolutely beautiful!
Spring Bike Wall Art
This beautiful Spring bike wall art was created using an old, thrifted canvas decor. I painted it using Waverly Chalk paint in the Moss, gave it two coats.
I then took a pack of two bamboo rings from Dollar Tree and painted them white with chalk paint. I also painted 4 flat dowels in the white chalk paint.
After everything dried, I hot glued the two bamboo rings to the canvas, placed the larger ring to the left and the smaller one to the right. I then, cut and hot glued the flat dowels, criss-crossed, inside each ring.
I then hand painted handles, seat and bars to the canvas, to create a "bike".
I added pink faux flower bundles to the top of each wheel, giving this old canvas a fresh, new, Spring look!
Romantic Heart-Shaped Spring Decor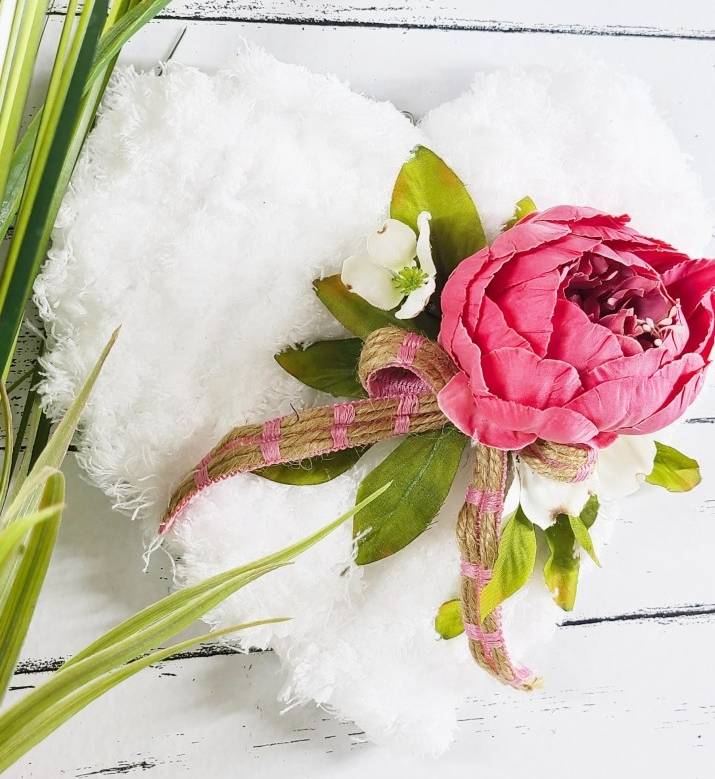 This gorgeous heart-shaped wall decor is the perfect addition to your spring decor this year.
I took a Dollar Tree heart-shaped sign, removed everything from it and hot glued Dollar Tree dusting mops to it, covering the entire surface. I then trimmed off all the excess material from the edges, making sure I trimmed where it needed it, ensuring a nice, clean edge.
I then took a pink, faux peony and white small flowers I had on hand, and hot glued them to the front, right side of the heart.
I then hot glued jute string to the back so that it can be hung.
This Spring heart decor is absolutely stunning!
Love Spring Decor
This Love Spring Decor is beautiful and so easy to make!
I took a Dollar Tree love sign, removed the greenery from it, and painted it white using Waverly Chalk paint.
I then took a jute and pink ribbon I had on hand from Dollar Tree, cut off strips and hot glued them to the sign keeping the shape of the L, V and E.
I then hot glued a tiny wreath, from Target Dollar Spot, to the O, along with pink flowers from Dollar Tree.
I then hot glued the entire Love Sign to a, wood-toned, frame from Dollar Tree.
This was such an easy craft! One of my favorite!
Canvas Tote Bag Spring Decor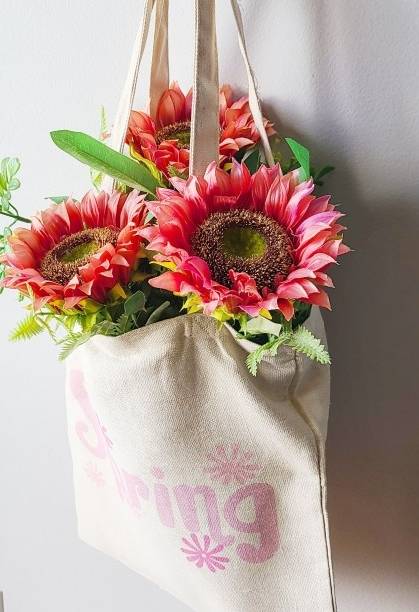 I love hanging tote bags with flowers in them as decor in my home! I have one for every season. This Spring one is so beautiful!
I took a canvas tote bag, I get from Amazon, and sublimated a Spring graphic on it using sublimation ink, paper and heat press.
I then took greenery picks I had at home as well as three pink sunflowers from Home Goods, and inserted them inside the tote bag. I threaded the handles in between some of the branches for a more natural look. It is gorgeous!
What do you think? Which one is your favorite?
You can watch the step-by-step video tutorial here 👇
Have fun creating… Lianep