Welcome to a world where creativity meets sustainability! In this blog post, I'll explore the enchanting art of repurposing an old wood pallet into an exquisite rustic home décor piece. With just a touch of imagination and a sprinkle of DIY magic, you can breathe new life into these forgotten treasures and adorn your living spaces with unique, eco-friendly accents.
Join us on a journey where weathered wood tells stories of untold adventures and timeworn textures exude warmth and character. Discover how a simple wooden pallet, once discarded, can be transformed into stunning home decor, wall art, shelving units, and much more. So, grab your tools, unleash your creativity, and let's embark on this delightful rustic transformation together!
The first thing you'll want to do is get an old wood pallet and tear apart all the boards. You can carefully use a jigsaw or a crow bar to help remove them. Be careful with exposed nails and make sure to wear protective gear as needed.
Then, you'll want to take four longer boards and align them together vertically.
Take another board and place it horizontally on the upper portion of the other boards. Mark with a pencil where to cut. Do this for the top and the bottom.
Using a miter saw, carefully cut two boards of equal length.
You can leave the boards with their natural petina, or you can paint as wanted. I chose to give it a weathered look by scraping paint on them.
I used a scraper, dipped the tip in paint, and then scraped it on each board, giving them a beautiful, natural weathered look.
Once dry, place the smaller boards horizontally on the top and nail it in place. You can use nails and a hammer or a brad nailer, like I did. Repeat the process for the bottom board.
You can now add any hardware you'd like. I used an old handle from an old dresser. Screwed holes as needed and screwed it in.
You can leave the door as is and palce it anywhere in your home, or you can add a decorative wreath to it.
I made a magnolia leaf wreath and hot glued the leaves all around it.
Drill a hole in the center of the top horizontal board and hang the wreath as needed.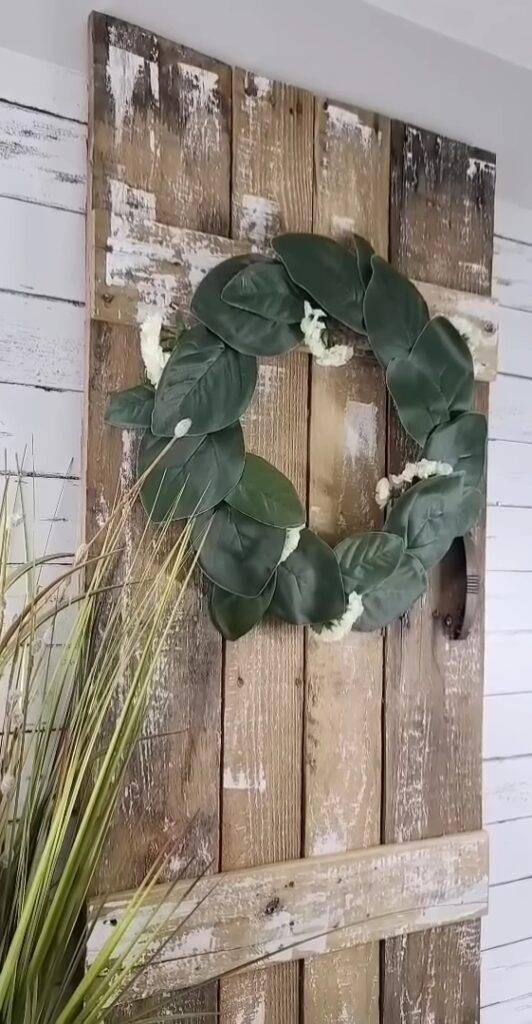 This door is absolutely stunning! It is large and so rustic! What do you think?
You can watch the full step-by-step video tutorial here on this video below. PLUS! Four more DIY crafts using the same old wood pallet!
If you are looking to learn how to use power tools and begin incorporating them into your crafting, check out my online course!
Join course here below!
https://diybeautyonpurpose.thinkific.com/
Have fun creating!
Lianep