Scarves are not just for keeping you warm and stylish; they can also be a fantastic addition to your home decor. And what better way to incorporate them into your home than by purchasing them from your local dollar store? In this blog, we will explore how to transform inexpensive scarves into beautiful decor pieces that can add a pop of color and texture to any room. We will cover DIY projects, styling tips, and creative ideas to help you make the most of your dollar store scarves. So let's get started!
These DIY crafts I made recently using Dollar Tree summer scarves, and I absolutely love the way they turned out!
Summer Cross Wreath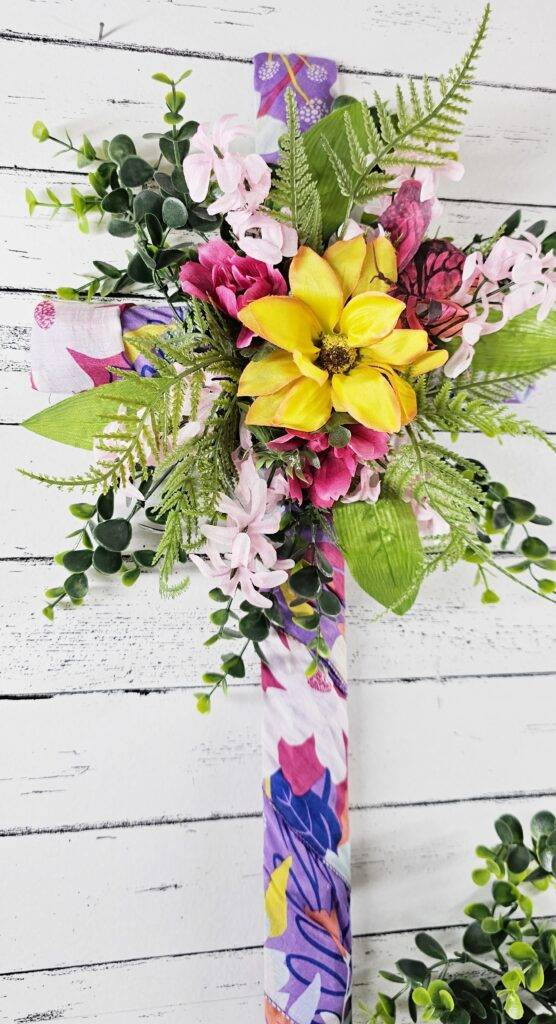 This wreath is so unique and so easy to make!
I took a cross shaped wreath form from Dollar Tree and wrapped it from top to bottom with a beautiful, bright colored summer scarf from Dollar Tree; hot gluing where I needed.
I  then took a floral foam ball from Dollar Tree, cut it in half, hot glued, and zip tied it to the center of the wreath.
I covered the foam by hot gluing moss from Dollar Tree and then added beautiful florals. Added greenery and bright colored faux florals that complimented the scarf beautifully.
That's it! Such a gorgeous and unique wreath, perfect for summer! What do you think?
Summer Hat Hack
Here's an easy way to update a Dollar Tree straw hat into a beautiful and trendy summer hat!
Take one straw hat from Dollar Tree in any color you want. And wrap a Dollar Tree summer scarf around the base of it. Make sure you are pulling tightly so that it is tight around the base.
You can tie it in a bow or in a knot, whichever one you prefer. You can also add flowers to the knot and give it a touch of summer freshness!
I love this hack! Such an easy one! What do you think?
Wooden Flower Box with Scarf Filler
This is such a smart way to use these summer scarves!
You can take any flower box or make your own. I built this one using 1×3 and cutting them into three long pieces and two small ones.
I built the box using wood glue and brad nails. But again, you can use any box you can find at a store as well.
Add floral foam to the inside and then the florals of choice. I used faux florals, but you can use real ones as well.
I added a scarf as filler in between the florals, covering the foam. If you are using real flowers, I'm not sure how well the scarf will do with the watering. But for the faux florals, it is perfect!
Decorative Floral Bundle
You can create a decorative floral bundle using a Dollar Tree Summer scarf by simply folding the scarf in half, placing faux florals inside it, scrunching it in the center and tying the scarf around the center with ribbon.
Adjust the scarf, ribbon, and florals as needed. And that's it! Easy, peasy, lemon squeezy! It's such an easy way to add charm to any home decor!
What do you think of these beautiful ways you can use a Dollar Tree summer scarf?! Will you be trying any of them?
Dont forget you can watch the step-by-step video tutorial here below. Plus, there is a bonus DIY craft in the video!
Talk soon!
Lianep