Welcome to our vibrant world of DIY flip flop crafts, where creativity meets summertime fun! As the temperature rises and the days grow longer, it's the perfect season to transform ordinary flip flops into extraordinary works of art. In this blog, I'll inspire you with a treasure trove of easy, budget-friendly projects that will have you living in style. Get ready to unleash your imagination, as we dive into the world of colorful flip flop, flowers, and more. Let's make this summer unforgettable, one DIY craft at a time!
Flip Flop Wreath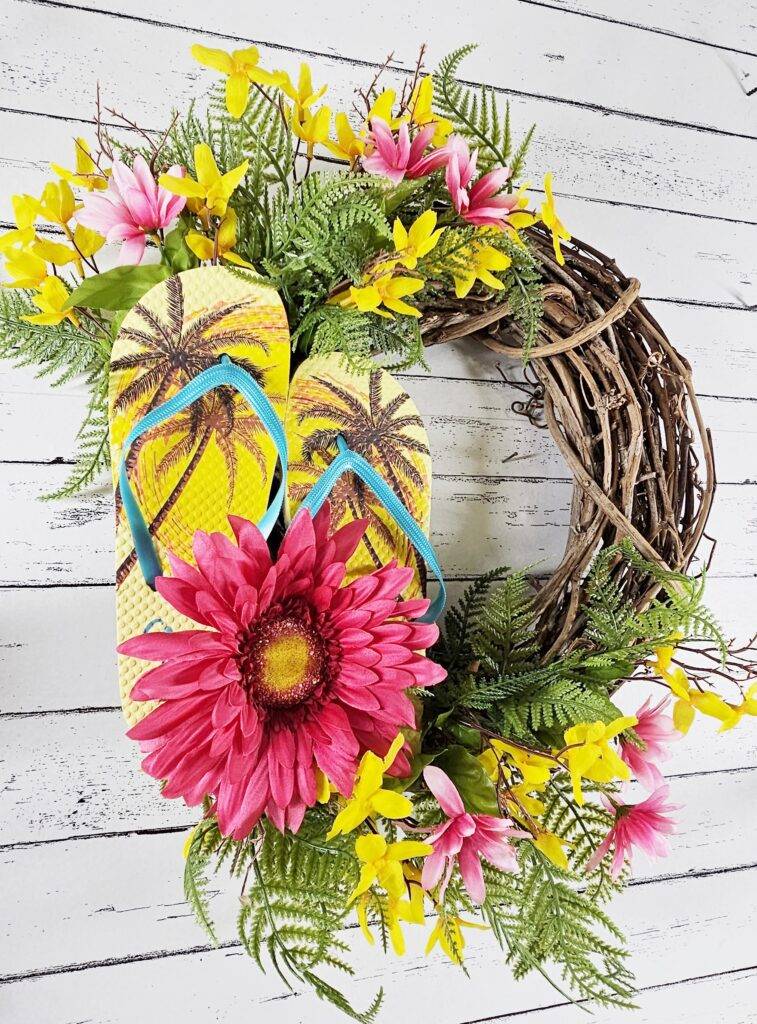 This wreath is stunning! I loved it so much that I kept it as my summer front porch wreath!
I started with a thrifted wreath I purchased a few months ago. I had already removed everything from it, so it was ready for a new look!
I took a pair of bright yellow summer flip-flops from Dollar Tree and attached them to the left side of the wreath using hot glue and flexible wire.
I then added greenery picks from Dollar Tree in between the flip flops, on top and on the bottom.
I also added pink and yellow flowers to add color and compliment the flip flops.
I added a large pink flower from Dollar Tree in between the flip flops for an added pop of color!
That's it! I absolutely love this wreath! What do you think?
Flip Flop Welcome Sign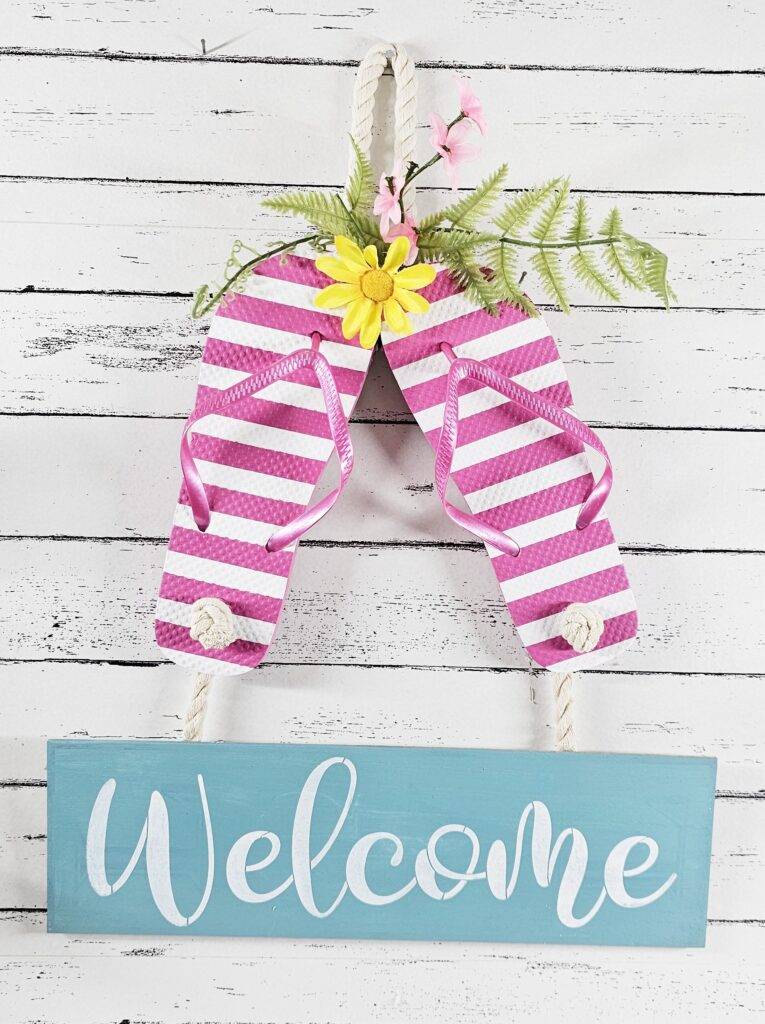 This flip-flop welcome sign took a few steps, but it's definitely worth it!
I started by taking a pair of stripped, pink, and white flip-flops from Dollar Tree. I placed them on top of thick cardboard on an angle. I traced the flip-flops on the cardboard, creating a base for them to be attached to.
Once I had a piece of cardboard perfectly sized for the flip flops, I hot glued paint sticks to the top of it so that it can add thickness and stability. I then painted the base white, and once dry, I hot glued the flip-flops to it.
I took a wood plank from Dollar Tree and painted it in the beautiful Agave blue by Waverly chalk paint. Once dry, I stenciled the word "welcome" on it.
I joined both pieces with white nautical rope from Dollar Tree and added faux knots to the front bottom of each flip-flop. I also added rope to the top to be able to hang it.
I finished everything up by adding greenery and a small yellow flower to the top of the flip-flops.
That's it! This piece screams summer!!! What do you think?
Life is Better in Flip Flops Wood Round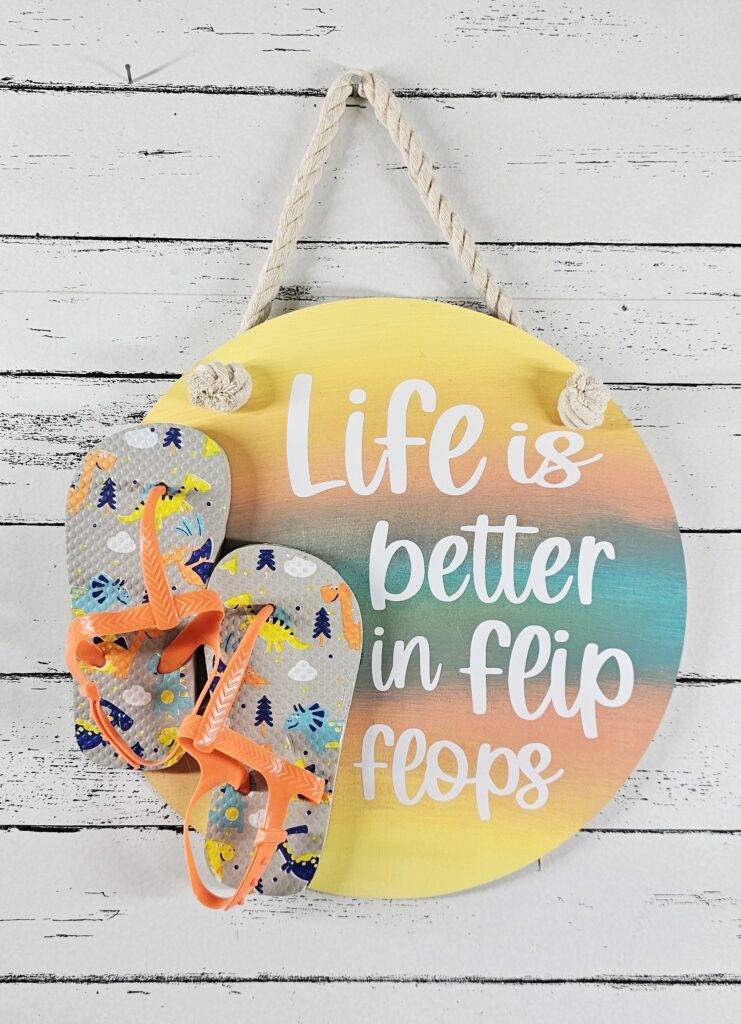 This wood round is fromn Dollar Tree and it was so easy to make!
I started by painting the round in different colors, blending them together, creating a "sunset" like design.
I used my Cricut to cut a graphic decal with the phrase "Life is better in flip flops" and attached it to the right side of the wood round.
I then hot glued a pair of youth size flip flops on the left side of the round that complimented the colors.
I added white nautical rope to the top to hang it and a couple of faux knots over each hole on the round.
That's it for this one! What do you think?
Flip Flip Mason Jar Vase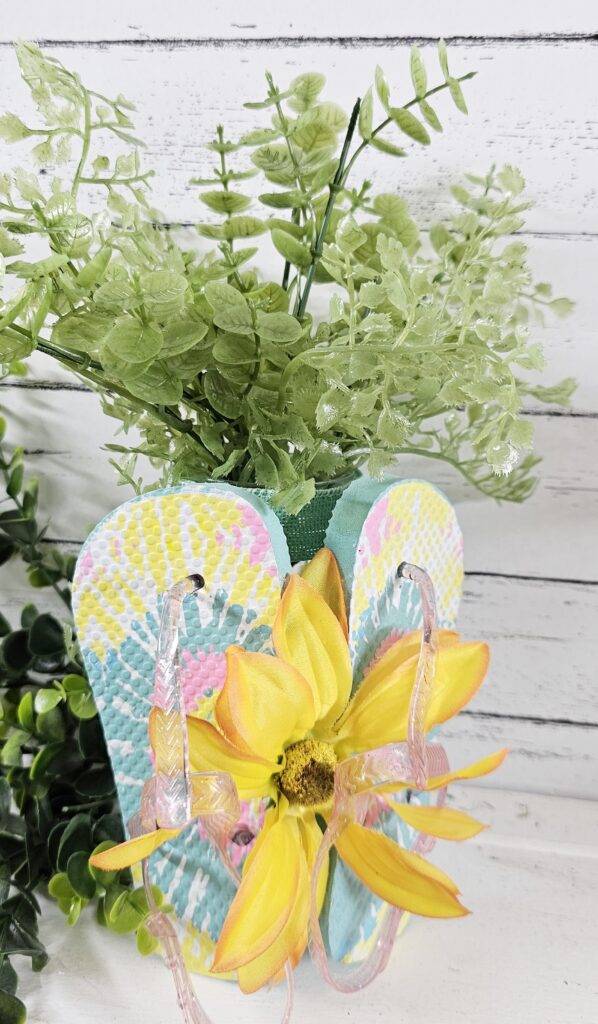 This was the easiest yet!
I simply took a pair of youth size flip-flops from Dollar Tree and joined them together, side-by-side with white jute string. I did this by poking holes in the middle of the flip-flops and threading the string.
I then wrapped the string around a mason jar and tied it on the back with a simple knot.
I hot glued a large yellow flower to the middle of the flip-flops for added color and design.
I then finished it up by adding simple greenery to the mason jar.
This was such an easy DIY craft! Anyone can make it with easy-to-find items!
Which is your favorite today!?
Don't forget you can watch the step-by-step video tutorial here below
Have fun creating!
Lianep