There are so many beautiful crafting items currently at Dollar Tree! On a recent trip to my local store, I found some excitig, new items I couldn't wait to take them home and create with!
On a recent video I created several beautiful designs using Dollar Tree bead rings. Read below the steps I  how I made them.
Farmhouse Black and White House Decor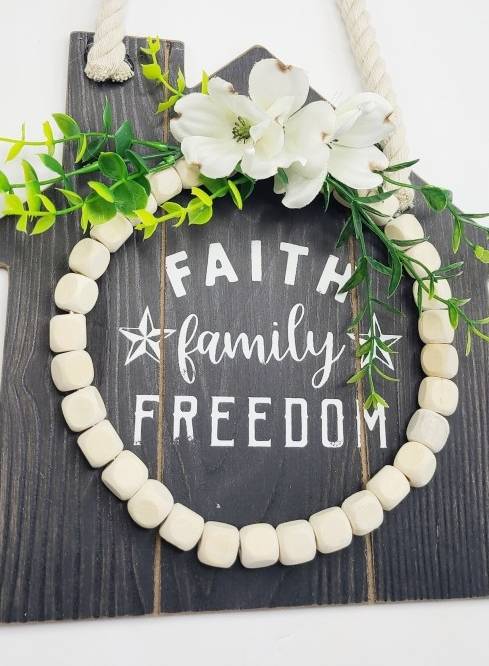 This cute farmhouse house decor was such an easy one!
The black house is from Dollar Tree and it was already this black tone. Didn't have to do anything to it, except remove the jute string it came with.
I added a stencil using a Faith, Family, Freedom, mesh, reusable stencil from A Maker's Studio, and stenciled it with white chalk paint and a stenceling brush.
I then took a white bead ring from Dollar Tree and opened it up, formed a smaller circle with it, until I had a size that fit the design.
I cut off the excess beads and curved the end with needle nose pliers. And then joined both ends together to form a "new", smaller ring.
I hot glued the ring to the center of the house.
I added faux boxwood and three small, white flowers to the center, top portion of the ring.
And that's it! Such an easy and beautiful craft, anyone can do! What do you think?
You Are Lovelly Wood Round
This wood round is absolutely stunning and so easy to make!
I took a Dollar Tree Valentine's Day themed, wood round, sanded off the surface to remove excess glitter.
Wiped it very well and added a beautiful, pink, craft paper that said "You are lovely". I sprayed it with adhesive and place it in the center.of the wood round.
I cut off the excess paper around the wood round and sanded down the edges for a smooth finish.
I then added a natural wood tone, bead ring from Dollar Tree using a combination of permanent and hot glue, and placed it on the wood round.
I hot glued faux greenery, along with beautiful, pink flowers to the top of the wood round. This really added the final touches!
To finish it off, I added burlap ribbon to the back to be able to hang the wood round.
What do you think of this one? Isn't it beautiful!?
Vintage Black and White Vintage Love Sign
This love sign has a special place in my heart!I love the colors, style and distressed look!
I took a Dollar Tree blank, wood sign and painted white using Waverly Chalk paint in White.
I then added another reusable, mesh stencil from A Maker's Studio that had a vintage design. I stenciled it using A Maker's Studio Gel Art Ink, in black and their squeegee.
Once the paint and stencil had dried, I hot glued a "love" wood word from Dollar Tree, which I painted using Waverly Chalk paint in the Agave tone.
I added two open eye hooks to each side of the top of the sign.
I then took a black color bead ring from Dollar Tree and opened it using pliers. I attached one end to one if the hooks and then measured and cut off the excess beads I didn't need. I curved the other end of the ring and attached it to the other hook.
I added hot glued faux boxwood to the right, top side and a couple of white, small flowers, for additional texture and character.
Can you see why it's one of my favorites? It's beautiful!
DIY Wood Bead Key Chains
These key chains are so easy to make and they make a great gift for anyone in your family!
I took the leftover beads from the rings we used prior and threaded 14 onto black or white jute string. I made three; one black, one white, and one black and white.
I then tied a binder ring from Dollar Tree to each, with a simple knot, leaving some excess jute string.
I created tassels using more jute string, to coordinate the color jute I used for the beads.
I then attached the tassels to the remaining jute string and made a simple knot.
I cut off the excess strings from the tassels, making sure they were an appropriate size and length. And that's it!
I told you these were easy! I love these key chains!
Which project was your favorite.fro. today? Let me know!
Also, don't forget you can watch the step-by-step video tutorial here 👇
Have fun creating!
Lianep