Easter is just around the corner, and what better way to celebrate than with some fun and easy crafts? Whether you're looking to decorate your home or entertain the kids, there are plenty of Easter-themed crafts to choose from. From DIY Easter baskets and colorful egg decorating to bunny-themed crafts and spring flower arrangements, the possibilities are endless. Not only are these crafts fun and festive, but they're also a great way to spend quality time with family and friends. So, grab your crafting supplies, and let's get started on some easy and fun Easter crafts that will make your holiday eggstra special!
Easy Easter Egg Arrangment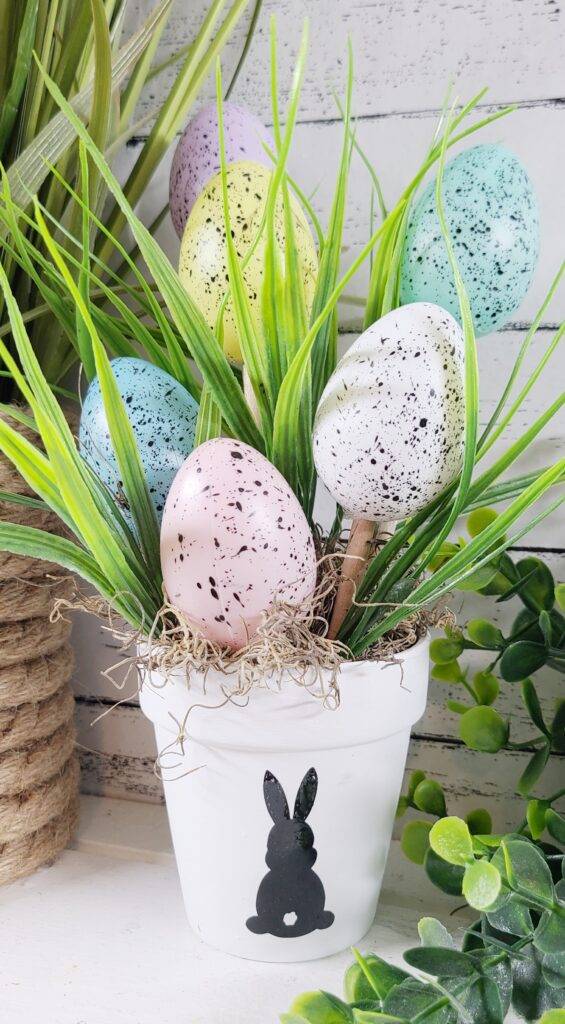 This was such an easy craft to make!
I took a terracotta pot from Dollar Tree and painted it white with chalk paint.
I then added a black bunny graphic to the front, which I cut using my Cricut Joy.
I then took a six-pack Easter egg pack from Dollar Tree and poked a hole on each bottom using the tip of my hot glue gun.
I then inserted a wooden dowel inside each egg, through the hole.
I cut the dowels in different heights so that each egg is at a different height.
I added a foam ball to the terracotta pot and hot glued it in place. I added each egg by inserting the dowel into the foam. I added hot glue before inserting so that it has a strong hold. I ensured that I placed the eggs from tallest to the shortest.
I then added moss from Dollar Tree inside the pot, in between the dowels, to cover up the foam.
That's it for this one! Told you it was easy! What do you think?
Vertical Easter Egg Sign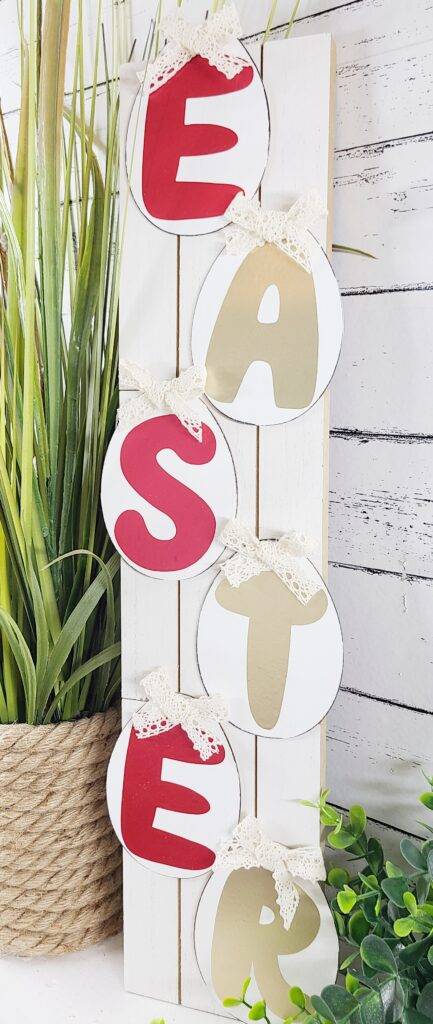 This sign was so fun to make!
I took three planked small boards from Dollar Tree and joined them together using wood glue, staples, and popcycle sticks.
I then took six Easter wooden egg ornaments and painted them white with chalk paint.
I cut our the word EASTER on vinyl using my Cricut Joy, alternating each letter from pink and golden tones.
I added each letter onto each egg and added a small, lacy bow to the top of each.
I then hot glued each egg vertically on the board, spelling the word EASTER.
And that's it! WOW! This one is a beauty! What do you think?
Egg's Nest Napkin Rings
These napkin rings were my favorite! They have a beautiful but festive, neutral look.
I took a beautiful craft paper and cut four strips using my Cricut Joy, making sure they had a wavy design.
I then glued each end using glue tape, ensuring each ring was nicely put together.
I took moss from Dollar Tree, rolled it, and shaped it into mini bird's nests.
And then hot glued each nest on top of each napkin ring.
I took four foam Easter, mini eggs, and added speckles by spritzing brown antiquing was to them.
Once dried, I hot glued them to each bird's nest.
How gorgeous are these??!! What do you think?
Easy HOP Glass Vases
These cases were the easiest yet!
I cut the word HOP using my Cricut Joy in a beautifully designed font.
I placed in the front of three glass bottles I thrifted a few years back.
I added pink peonies to each vase, and that's it!
Simple, gorgeous, and so festive! What do you think of this one!
Don't forget you can watch the step-by-step video tutorial here below! 
Have fun creating!
Lianep