Are you looking for creative ways to upcycle your empty cans instead of throwing them away? You're in luck! In this blog, I'll explore clever ways of upcycling cans and show you how to turn your trash into treasure. Whether you're a seasoned DIY pro or just starting out, upcycling cans is a fun and eco-friendly way to add some unique touches to your home decor. From planters to pencil holders, the possibilities are endless. Plus, you'll be doing your part to reduce waste and give new life to old items. So grab some cans and get ready to transform them into something beautiful and functional!
Glam Stacked Flower Holder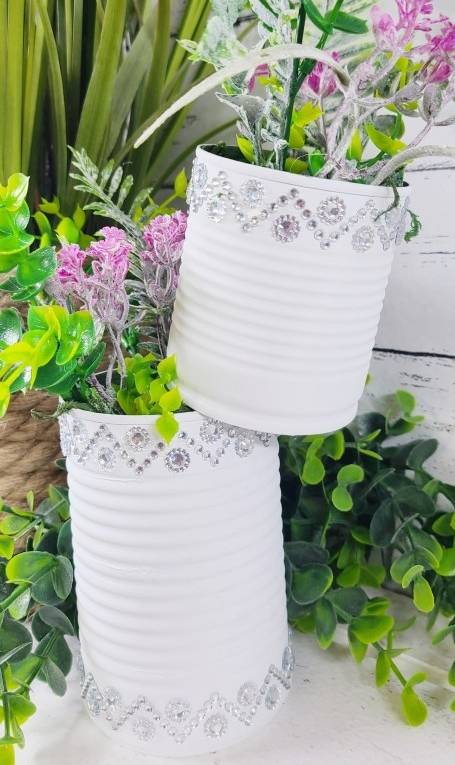 This double can craft is easier to make that it looks!
Grab two cans, one larger than the other, paint them white, or your color of choice.
I added Dollar Tree rhinestone stickers to the top of the small one and, both top and bottom of the larger one.
I drilled a whole at the bottom of the smaller can and hot glued foam to the inside of each can.
I inserted a dowel through the bottom of the small can and cut off the excess dowel, leaving enough to be able to stick it inside the larger can. Make sure you inserte it in an angle so that the smaller can on top lays in a tilted position.
I then added small rocks to each can to weigh them down and moss to hide everything.
I added faux Spring flowers to each can, and that's it!
So easy and so beautiful! What do you think?
Hanging Wall Pocket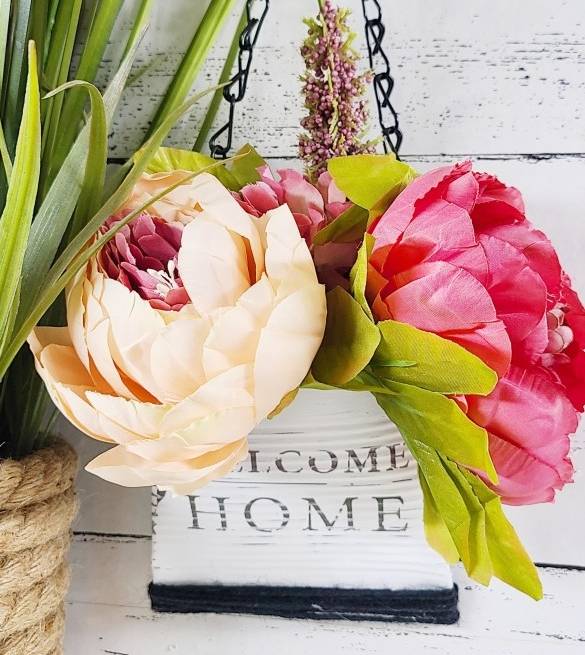 This wall pocket was so fun to make!
Grab a regular size can and remove the bottom of it.
I flattened the bottom of it by hammering it down onto a piece of scrap wood. I also, lightly, hammered the top opening to give it a more oval look rather than round.
I then painted it black using Waverly Chalk Paint in the Ink and then sealed it with Rust-Oleum spray top coat.
I then painted it white with Waverly Challk Paint in the White and lightly distressed it after it was fully dry.
I added a rub-on transfer fron Dollar Tree and black jute string to the bottom by hot gluing it.
I poked one whole on each side of the upper can and added one chain from Dollar Tree hanging basket chain set.
I added a few stems of a peony pick, and that's it!
This one is absolutely gorgeous! What do you think?
Farmhouse Spring Flower Vase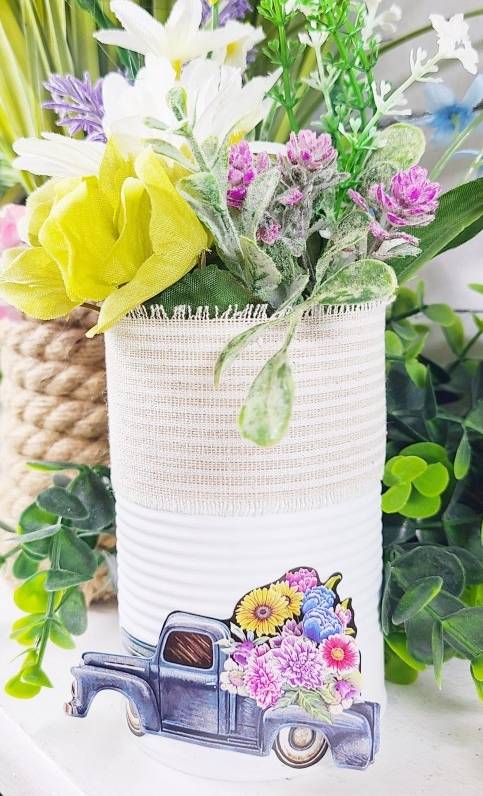 This was such an easy, but beautiful craft!
I took a regular size can and painted it white with Waverly Chalk Paint.
I then added a ticking stripe ribbon to the top, making sure it overlaped the top just a bit.
I added a farmhouse truck sticker from Dollar Tree to the bottom front.
Added a mix of faux flowers, and that's it! Easy, quick craft anyone can do!
Rusted Mini Flower Vase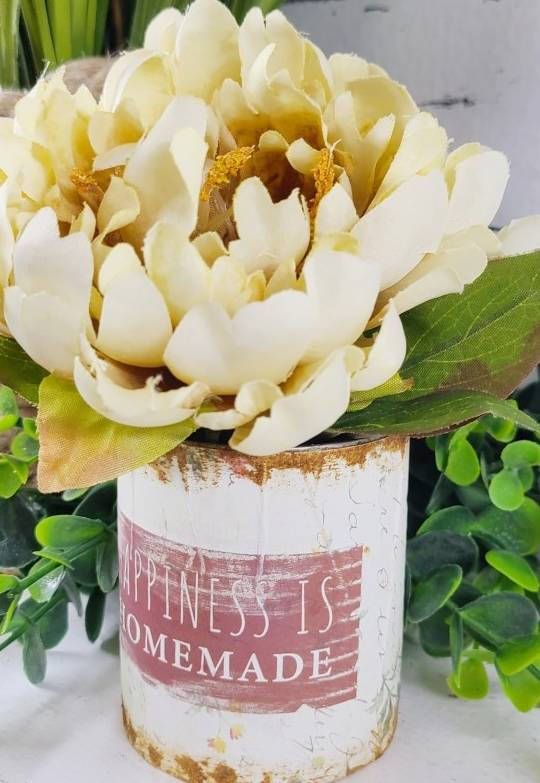 This one is tiny but mighty!
I took a small can and wrapped it with a beautifully designed craft paper by modpodging it.
I then added a rub-on transfer from Dollard Tree to the front.
I gave it a faux rusted look by applying ground cinnamon and modpodge to the upper and bottom rims.
Dusted off the excess cinnamon and added a beige peony…..and BOOM…..you have a beautiful, custom flower vase with tons of character!
What do you think? Which one is your favorite!?
Don't forget you can watch the step-by-step video tutorial here below.
Have fun creating!
Lianep