Welcome to a world where ordinary household items transform into extraordinary DIY home decor. In this blog post, we embark on a creative journey that combines elegance and affordability through the power of Dollar Tree rope. Breaking free from the notion that luxury crafts come with a hefty price tag, we explore the boundless potential of this humble material. From a trendy hanging shelf to decorative a tray, we unveil the secrets to crafting high-end masterpieces using the unassuming beauty of Dollar Tree rope. So, grab your glue guns and unleash your imagination as we dive into the art of DIY crafts that exude sophistication without breaking the bank.
DIY Hanging Shelf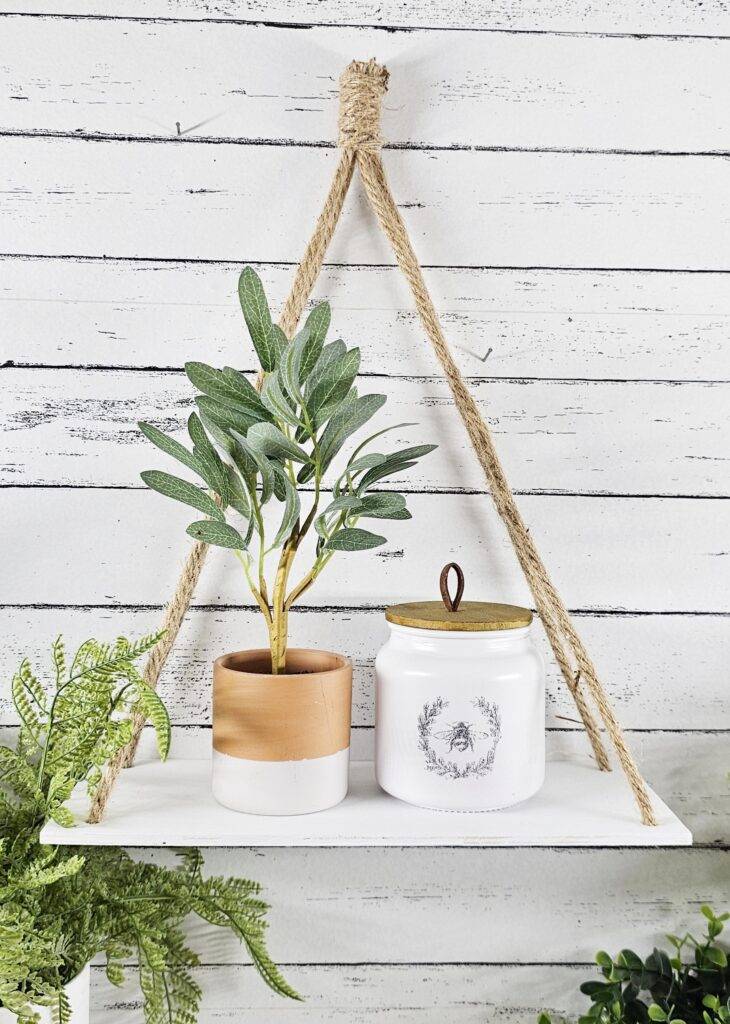 This beauty is so chic and so easy to make!
I started by painting a Dollar Tree hanging shelf white. I painted the top, bottom and sides white.
I widened the holes on each corner using my drill and a drill bit large enough to fit the width of the rope.
I took one nautical rope from Dollar Tree, cut it in half, and threaded it through each hole. In through the top, around the bottom to the other hole. I did one side at a time.
I lifted and aligned each remaining rope upwards, tying it in a knot on top.
I added cute decor on it and hung it on a wall with a screw! That's it!
How cute is it?!
DIY Decorative Tray
This tray is beautiful and so functional!
I took a Dollar Tree wood round and painted it white.
I then hot glued a natural tone nautical rope from Dollar Tree around the perimeter of the round, stacking it three times and hot gluing as needed.
I added white nautical rope from Dollar Tree on top of the natural tone one, hot gluing as needed, and stacked it twice.
I added handles with leftover natural tone rope on each side.
That's it! It was so inexpensive, so easy, and so cute!
Nautical Knot Curtain Ties
These curtain ties are super easy to make and perfect for Summer!
The step-by-step instructions are so much more effective by watching it rather than reading it. So for this one, I will encourage you to watch it here.
Here's what you will need:
1. One natural tone nautical rope from Dollar Tree
2. String
3. Hot glue
Open Style Summer Wreath
This wreath is so unique and so easy to make!
I took one grapevine wreath from Dollar Tree, tied the top twice, and then cut it right in between the ties.
I added a piece of nautical rope to each side and wrapped it with more rope, hot gluing as needed.
You can add any decor you want to the wreath. I decided to make one bow using burlap ribbon and one out of a pet scarf from Dollar Tree.
Hot glued the burlap bow first and then the scarf one on top.
And to finish it up, added greenery under each side of the bow.
That's it!
What do you think? Which one is your favorite!
Dont forget, you can watch the step-by-step video tutorial here below.
Have fun creating!
Lianep