Forget diamonds!….power tools are a girl's new best friend. My journey using power tools began several years ago when I started flipping furniture. Thrifted and used furniture often require adjustments or even some major reconstruction. Not all pieces require major power tools to complete job, in fact, most can be done with minimal hand tools, however, having power tools accessible and knowing how to use them properly, can make the job easier, quicker and a lot more enjoyable.
On this post I will list my top, go-to, power tools I use when flipping furniture or DIYing home decor. I highly recommend you read all instructions of each tool and familiarize yourself with how to safely operate each one prior to using them. I am, by no means, an expert in tools, nor am I a professional, I am simply a girl who loves to DIY and using tools makes her job alot simpler. Also, please know that I am not suggesting that you go out and buy these tools, this is just a list I have compiled to inform you of my favorite, go-to, tools I use.
Let's get started….
1. Power drill – Having a power drill has simplified my work significantly. Although you can certainly use a screwdriver for most simple tasks, having a power drill will allow you to do the work in a fraction of the time. This was my very first power tool, and I have to say that I use it in about 95% of my projects. They are available with electric cords as well as battery operated ones. I prefer the battery operated ones, mainly due to the ease of transporting it from one place to another, but an electric cord one can do the job just as well, plus you never run the risk of the battery going dead and having to wait for it to charge. If you are considering purchasing a battery operated one, my advise is to buy a back-up battery. I have listed some of my favorite tools, including my current power drill in my Amazon Store.
2. Power sander – The power sander is my second, close first, most used power tool in my studio. It significantly speeds up the process of sanding. I have sanded to bare wood several pieces of furniture in the past few years, and using a power sander has made the job extremely faster and definitely more enjoyable. Any job can be done sanding by hand, especially smaller, less extensive jobs, however, if you are looking to sand down a piece of furniture or wood that has been previously painted or stained, I highly recommend you invest in a power sander. They too come with power cords or battery operated and in different styles. I prefer the battery operated one, again, due to the convenience of being able to use from room to room, or project to project easily. I do have back up batteries that allow me to use without fear of losing power. Please remember to use safety gear such as safety goggles and gloves as needed. I also have the current power sander I use linked in my Amazon store.
3. Miter saw – Power saws can be super intimidating to use. I have used mine for several years now and I still get intimidated. But I see this as a good thing, It forces me to always be respectful of the tool. Power saws can be very dangerous to use if not used properly and without the proper safety gear. Always use gloves, safety goggles and ear plugs to ensure you are safe when using them. I use my miter saw quite often for my projects. It allows me to custom build and create things as I need them. Most hardware stores offer wood cutting services, but they have a small charge and often have limitations, however, it is a wonderful and convenient alternative. Miter saws are also available with power cords as well as battery operated, however, in my experience power cord ones are better. That's just my opinion. Plus, I don't often have a need to trasport my miter saw from room to room, I just go to it, in my garage, as needed. If you are not comfortable or just cannot afford a miter saw at this moment, there are miter boxes available that are great for smaller projects, I own one and it's very easy to use. I have both the power miter saw and the miter box in my Amazon store.
4. Power nailer – The power nailer or brad nailer is probably the most recent power tool I started using, and it's become one of my favorites. You can certainly use the good old hammer and nails to get the job done, however, having a power nailer will drastically shorten the time and effort spent on your projects. I know it has definitely changed my work life. Always use safety goggles when using it. I highly recommend having a power nailer if you plan on building things or even fixing things. I use mine all the time for home decor, furniture flipping and even fixing things around the house. The power nailer along with wood glue are a match made in heaven for sturdy, long lasting builds. Once again, I have these listed in my Amazon store.
There are so many tools that I have yet to learn to use, and I am sure I will in the near future, however, these are my, go-to, tools that have made my work a lot easier and more enjoyable. All my tools I have acquired through birthday, mother's day and anniversary gifts LOL. I would rather get a power tool than a purse! 🙂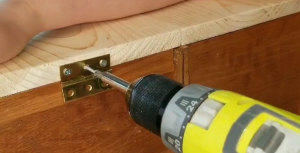 If you are ready and want to start using power tools, but cannot afford all of them at once, make a "wish list" and work your way through it. Dont forget, familiarize yourself with each tool, read instructions and safety guidelines, wear safety gear, and have fun creating!
Until next time…Lianep