Want to transform your living spaces with easy DIY crafts using Dollar Tree sea shells? You've come to the right place! These budget-friendly ideas and touch of coastal charm will help you discover the perfect way to elevate your home decor without breaking the bank. I'll guide you step by step, inspiring you to add a beachy vibe to any room. Join me as I dive into the world of inexpensive crafts, incorporating seashells as the star of the show. Get ready to bring the coastal paradise to your doorstep today!
Easy Seashell Decorative Cutting Board with Wreath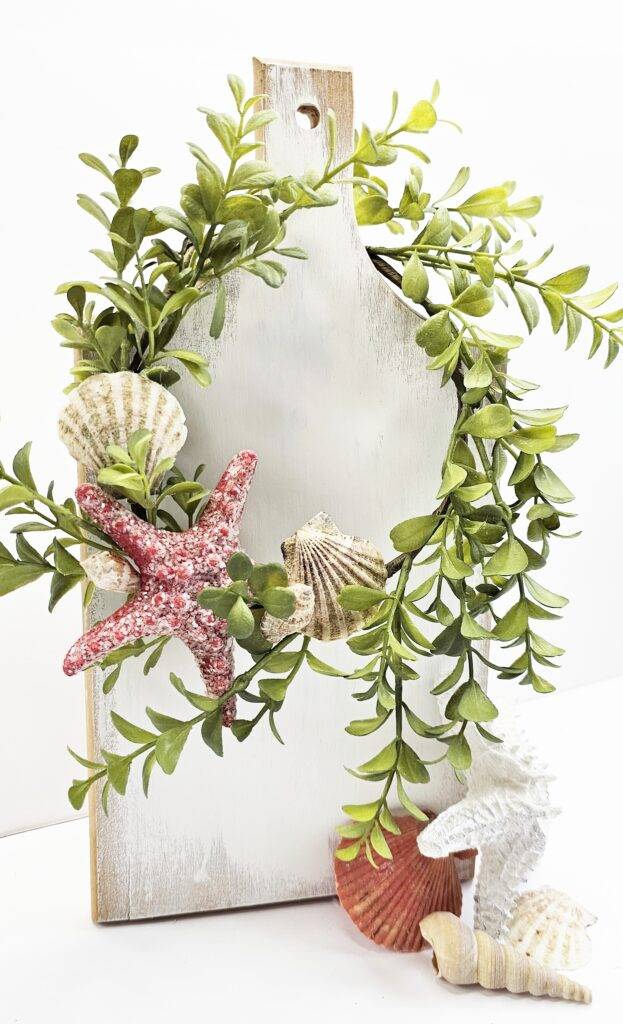 This DIY craft is such an easy one!
I took a thrifted cutting board, dry brushed white chalk paint on the front, making sure it was a bit rough on the edges.
Once dry, I sanded it down a bit, giving it a very distressed look.
I took a small boxwood wreath form and hot glued some seashells to the left bottom side. I also added a star fish for a fun look!
I then placed the wreath around the neck of the cutting board, making sure I shaped it a bit to fit snug and flush around the neck.
That's it for this one! What an easy flip with a beautiful beachy style! What do you think?
DIY Message in a Bottle Decor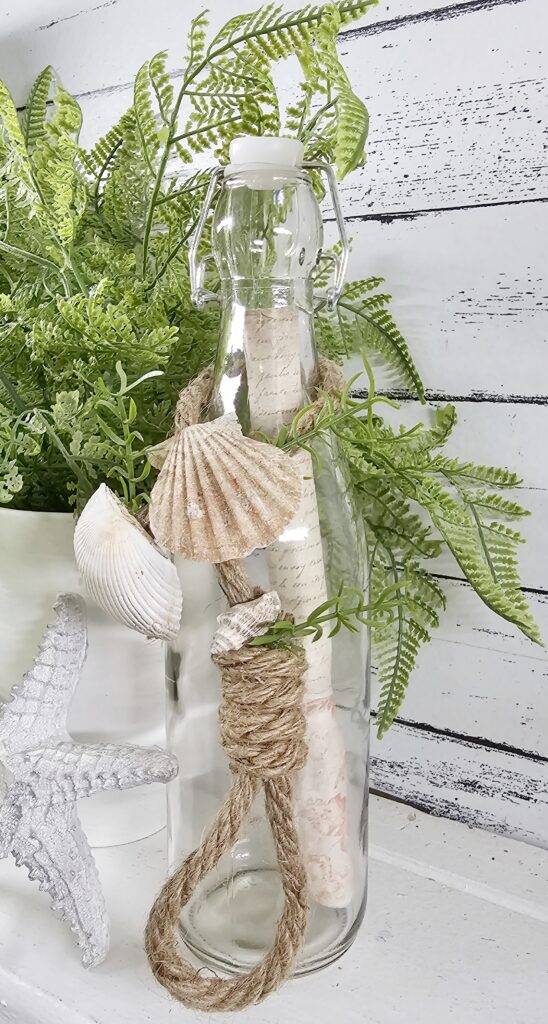 Dollar Tree has a ton of glass bottles that you can use to make this beautiful DIY craft.
I bought one that has a sealed cap, but you can use any bottle.
I cut a piece of craft paper with an old, script design on it. I rolled it and sealed it together using two-sided tape. I placed it inside the bottle, cutting as needed for a perfect fit.
I took a piece of nautical rope from Dollar Tree and looped one end, wrapped it, and glued it for a nautical knot look.
I wrapped the long end of the rope around the neck of the bottle and knotted it.
I added seashells to the knot area as needed and finished it off with bits and pieces of greenery for an added touch of nature.
What do you think of this one? So pretty and so easy!
Blue Sea Shell Mason Jar Decor
This beauty is one of my favorites!
I took a thrifted blue mason jar and added sea shells and battery-operated string LED lights. I added a couple of seashells at a time while adding some string lights simultaneously.
I did that until the mason jar was two-thirds full. I then added greenery picks for an underwater greenery look.
That's it! Anyone can truly make this one!
What do you think?
DIY Seashell Napkin Rings
These napkin rings are the perfect addition to your summer tablescape!
I took two shower rings from Dollar Tree and hot glued them together.
I then unbraded a piece of white nautical rope from Dollar Tree and wrapped one piece of strand around the glued napkin ring, hot gluing as needed.
I did the same three more times to make a set of four rings.
I hot glued one seashell to the front of each napkin ring and added a small greenery piece for an added touch of nature.
I added custom linen napkins to each and that's it!
How fun and so inexpensive! Love this DIY craft!
What do you think? Which one is your favorite!?
Don't forget that you can watch the step-by-step video tutorial here on this video below!
Have fun creating!
Lianep
**some links are affiliate links, which I earn a small commission from each sale at no extra cost to you.