If you're into crafting, you've probably heard of Dollar Tree vinyl. This affordable crafting material has become a staple in many craft rooms, and it's not hard to see why. With its versatility and low cost, Dollar Tree vinyl is a must-have for any crafter on a budget. However, you may think that without a cutting machine, you can't use vinyl to its fullest potential. Fear not! In this blog post, I'll show you some smart and creative ways to use Dollar Tree vinyl without a cutting machine, so you can still achieve professional-looking results without breaking the bank.
Spring Bike Sign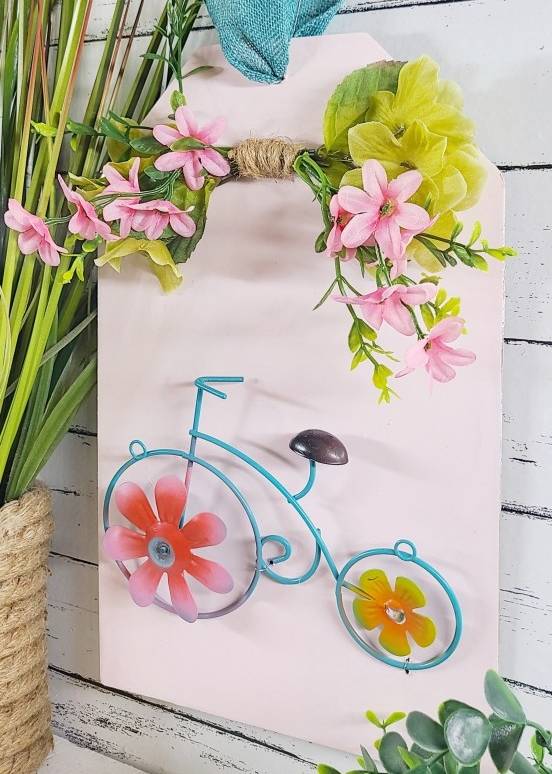 This stunner was so easy to make!
I took a leftover Valentine's Day tag sign from Dollar Tree and removed everything from it, sanded it down, and wiped it well.
I then took pink vinyl from Dollar Tree and resurfaced the tag.
I added a spring bike from Dollar Tree after removing the welcome portion of it. I drilled holes where I needed to be able to thread flexible wire and attach the bike.
I made a Spring swag using faux flowers from Dollar Tree, joined it in the center with jute rope, and hot glued it to the top of the tag.
I then hot glued teal blue burlap ribbon to the back, looped so to be able hang it.
So easy and so beautiful!
Daisy Spring Potted Faux Plant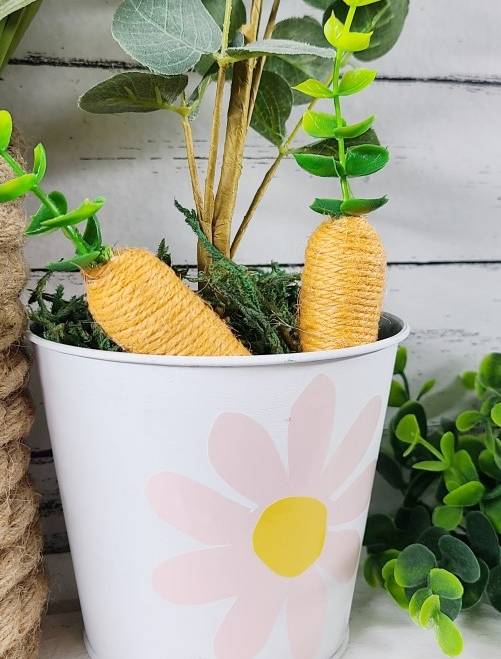 This cute potted plant is a perfect addition for your Spring decor.
I painted a tin pot from the dollar store white.
I printed a graphic of a daisy onto paper and traced it on the back of pink and yellow vinyl from Dollar Tree using carbon paper.
I then cut the design, creating a sticker of a daisy.
I added the daisy onto the front of the pot and added a faux green plant from the Target Dollar Spot.
And then covered the inside of the pot with green moss from Dollar Tree. And added two Dollar Tree carrots after replacing the greenery with faux boxwood.
Simple, cute, and perfect for Spring!
Easter Egg Ornaments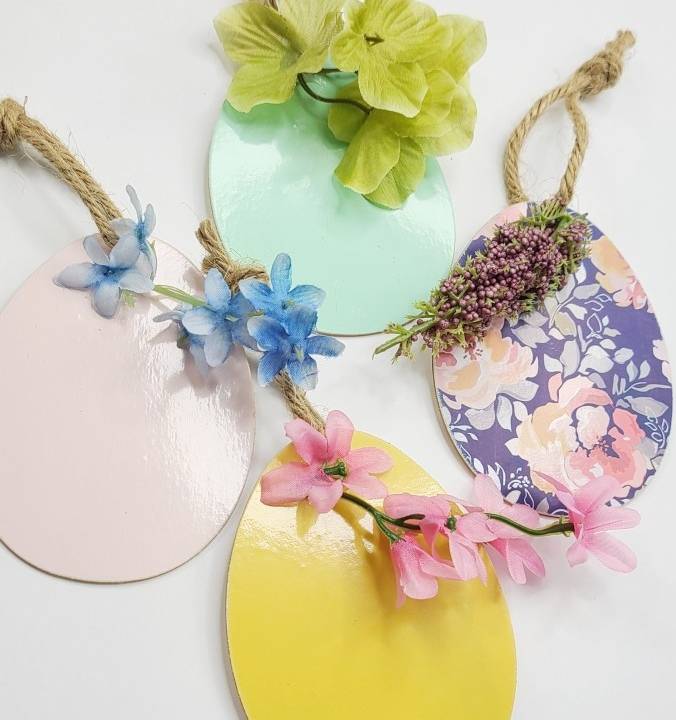 I know we are familiar with Christmas ornaments, but have you ever seen Easter Ornaments? Well, I made these inexpensive ones recently, and I love them!
I took four egg ornaments from Dollar Tree and covered them with four different color and designs of vinyl from Dollar Tree.
I sanded down the edges for a smooth finish.
I widened the holes with a hole puncher and threaded jute string through them and tied them in a knot.
I then  added small faux florals to the top of each, with contrasting colors for an added touch of color.
These are the perfect addition to your Easter decor this year!
Sunshine Glass Vase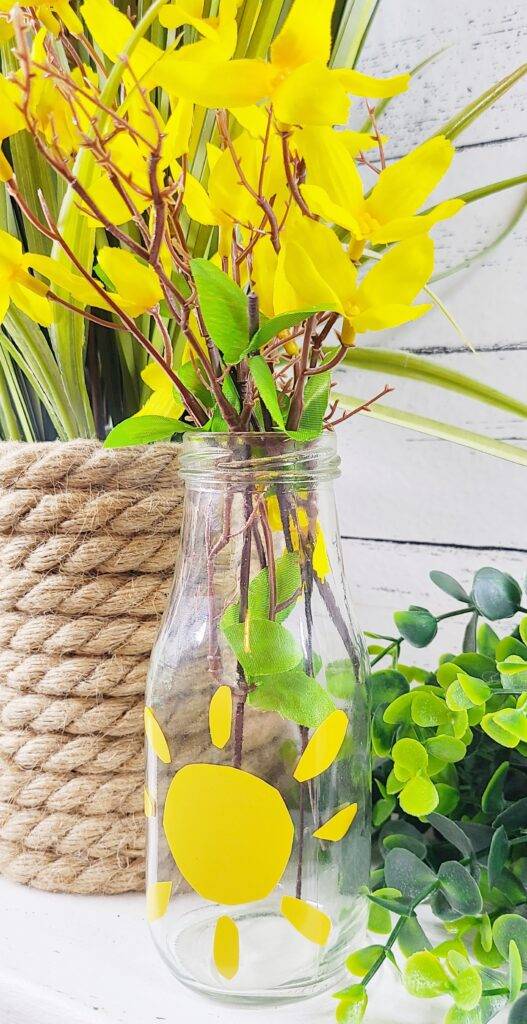 This sunshine glass vase was the easiest yet!
I printed a graphic of a sun on paper and traced it on the back of yellow vinyl from Dollar Tree with carbon paper.
I then cut the design and created a sticker of a sunshine.
I then added the sticker onto the front of a glass milk jug, creating a beautiful vase!
I added complementing yellow flowers, and that's it!
So easy! What do you think? Which one is your favorite!?
Also, don't forget you can watch the step-by-step video tutorial here below.
Have fun creating!
Lianep