I am elbow deep into crafting for Spring and I'm loving it! I'm so ready! It's still freezing cold here in Northern Ohio, but I have my sights on those crisp, sunny Spring days!
On a recent video I made beautiful crafts for home decor using Dollar Tree fabric that are super easy to make, but absolutely stunning . Read below how I made them!
Farmhouse Animal Vertical Sign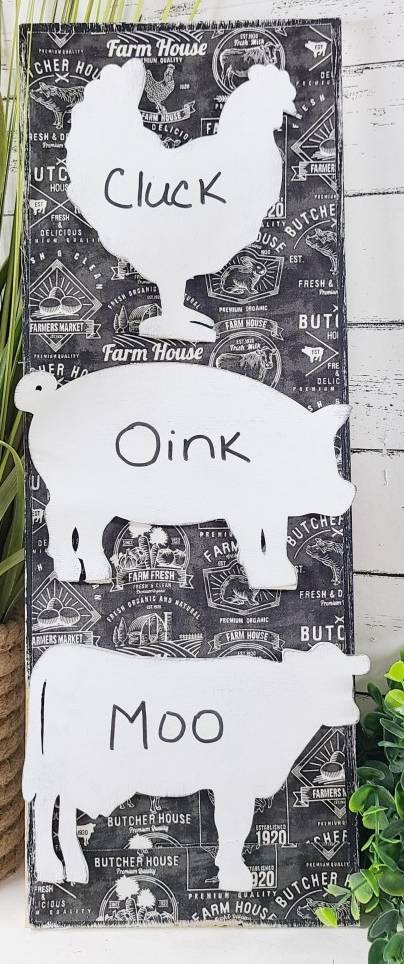 For this beautiful farmhouse sign I used old wood from an outdated bathroom sign. I removed the graphic and sanded it down a bit.
I then took a farmhouse fabric from Dollar Tree and cut it to fit the board. I attached it to the board using modpodge.
I then took three farm animal cut-outs from Dollar Tree, removed the base from each by scoring it, snapping it and sanding them smooth.
I painted them white and distressed the edges a bit, for a more farmhouse look.
I then hand-wrote the words moo, cluck and oink to the center of each, according to what animal it was.
I then hot-glued, vertically, each animal to the board, from smallest to largest.
And that's it for this beauty! What do you think?
Round Wall Spring Flower Pocket
This round, wall Spring pocket was made using a clear party plate from the Dollar Tree.
I spray painted it white and let it fully dry.
I then took a beautiful bike and sunflower fabric from Dollar Tree and cut half a circle, ensuring it fit on half the plate, and that it fit a bit smaller, leaving an edge.
I hot-glued the fabric to the bottom portion of the plate, creating a pocket.
I then hot-glued half wood beads to the bottom of the fabric, lining the edge.
I added a combination of white flowers for a beautiful spring look!
This one was so easy to make! What do you think of it!?
Sunflower Spring Coasters
These coasters were a viewer favorite on the video tutorial.
I took a Dollar Tree wooden flower and traced it on cardboard four times. I then cut each cardboard into squares and covered them with the sunflower fabric using modpodge.
I then cut each fabric square with a rotary cutter and then cut each flower using scissors.
I sealed each flower coaster with more modpodge, for a water resistance finish.
I then lined the edges of each flower with nautical rope from Dollar Tree, by hot-gluing it.
Theses are absolutely beautiful ❤️. What do you think?
Super Easy Fabric Covered Books
I always have old books on hand for any decor needs. These books I've had for a while and a couple didn't even have covers. But no worries, I was able to cover them and no one will ever know!
I took three coordinating fabrics from Dollar Tree and cut them to fit each book, leaving about one and a half inches of fabric on each side.
I then ironed each side, creating a seam, and making sure each fit one book.
I placed each book inside, the now, seamed fabrics, and folded the cover into each end.
For the books that didn't have covers, I simply took a few pages from each end and used as "covers". It worked perfectly!
I stacked the books and arranged them with other coordinating decor, and they look absolutely stunning!
These were my personal favorite! They were so easy to make and definitely make a statement!
Which one is your favorite?
Don't forget that you can watch the step-by-step video tutorial here 👇
Have fun creating ❤️
Lianep