Looking for a fun and budget-friendly way to unleash your creativity? Look no further than Dollar Tree! The popular discount store offers a wide range of affordable items that can be transformed into unique and stylish DIY crafts. From picture frames and floral arrangements to home decor and party favors, Dollar Tree has everything you need to create one-of-a-kind projects that will impress your friends and family. Not only is crafting with Dollar Tree items enjoyable, but it's also a great way to save money and reduce waste. So why not give it a try and see how easy and fun it can be? On this post, I bring you easy and creative ways you can use garden fences to make beautiful DIY crafts for home decor.
Easy Scrap Wood Garden Planter
This beauty was such an easy one! I took a scrap piece of 2×4 wood and sanded it to remove any splinters.
I gave it two coats of Waverly chalk paint in the white.
I drilled several holes on the narrow, top part of the wood, using a large and small drill bit.
I took a garden fence from Dollar Tree and cut two pieces off, ensuring it was as smooth as possible. And then hot glued it to the front of the wood.
I added faux floral picks inside the holes and then added moss in between the picks for a fuller finish.
Isn't this such a beautiful way to use these garden fences?!
Easy Decorative Chair
This stunning decorative chair is one of my favorite creations!
I took one of Dollar Tree garden fences, cut off one of the sections, and hot glued it to a wooden hanging shelf from Dollar Tree.
I then cut off four of the stakes from the garden fences and hot glued them to the bottom of the wooden part, turning it into a chair.
I painted everything white with Waverly Chalk paint and added a rub-on transfer from Dollar Tree to the top, right side of the chair.
I made a floral bundle using Dollar Tree florals and tied them together using nautical rope. I then attached it to the back of the chair with jute string.
This decorative chair is so cute! What do you think?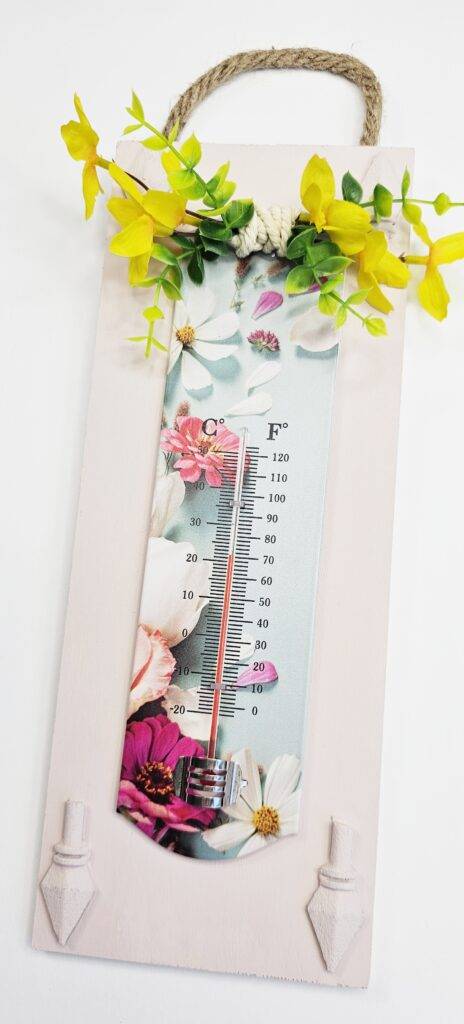 Easy Thermostat Wall Decor
This DIY craft is the easiest yet!
I took a wood hanging shelf from Dollar Tree and four arrow portions I cut off of the garden fences. I hot glued the arrows to each corner of the shelf, hiding the holes.
I painted everything with Rustoleum Chalk paint in their pink tone.
I then attached a Dollar Tree, summer themed, thermostat to the center of the piece.
I made a small floral swag with Dollar Tree florals and nautical rope and attached it to the top of the thermostat.
And to finish it off, I hot glued nautical rope to the back to be able to hang it.
That's it! What do you think? Which is your favorite!?
You can watch the step-by-step video tutorial in this video below, plus a bonus DIY craft!
Have fun Creating!
Lianep