I absolutely love making seasonal wreaths. I guess you can say wreath making is a staple in my DIY Crafting niche. Through the years I've made dozens and dozens of wreaths, for every season, in every color and size you can think of. I've made super large ones and tini, tiny ones. From traditional ones made on grapevine wreaths, to not so common ones. In fact, my daughter and I have an inside joke that "whenever I don't know what else to make….I make a wreath". And it's true. It's my "go-to" craft on my channel.
On this post, I thought I'd share the process I use when creating wreaths. It's a simple process, actually. However, I feel like I work best when I have a "vision" for it. So, here's the step by step process I use for creating a wreath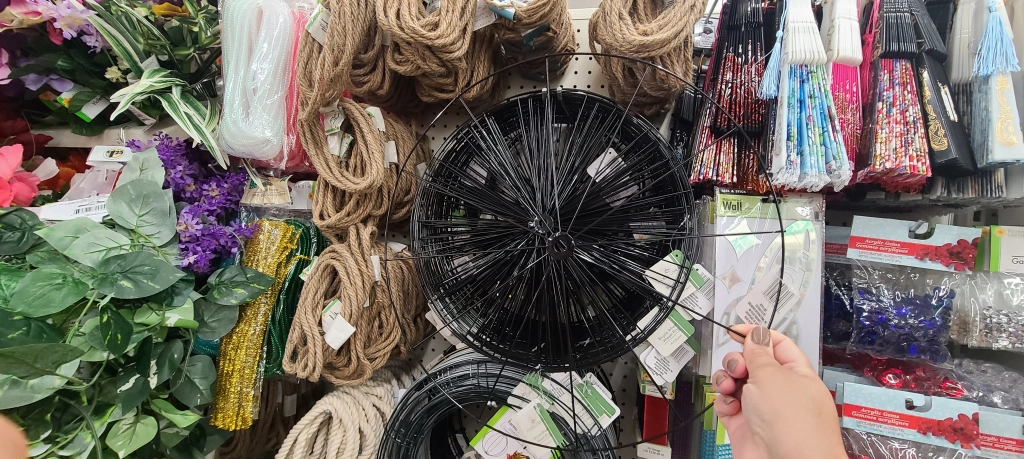 As mentioned above, I first have a vision for the wreath. I think about the size I want, what season it's for, colors I want to use, the theme, etc.
I then decide if I want it to be a more traditional one and want to use a grapevine wreath form, foam wreath form or a wire wreath form.
If I decide I don't want a traditional one, but rather one a bit more unique, I then think….what can I use as the "form" to create this wreath? This is where you can be as creative as you want. I've used baskets, hoola hoops, boxes, just name a few.
Once I've decided on the form, I then make sure I have the embellishments I need; florals, ribbon, signs, lights, etc.
And finally, I make sure I have plenty of hot glue sticks.
That's it….this is the process I take to prep for making a seasonal wreath. Once I have everything in place, I begin to create and film.
On a recent video I posted on my YouTube Channel, I created two very unique wreaths using wire wreath forms. You can watch how I made them here 👇👇
Let me know what you think of these wreaths, and which one is your favorite?!
Talk soon…. Lianep